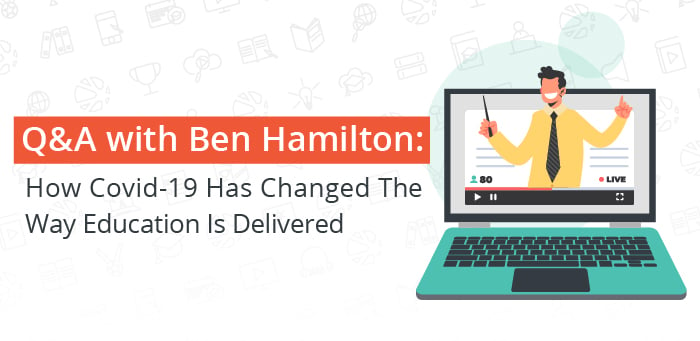 Educational Institutions globally have been severely impacted by the Covid-19 pandemic. The world has seen a drastic shift in education delivery as more and more institutions have been forced to close their campus doors and opt for online learning in an effort to reduce risk and maintain an income stream.
While some institutions had online learning in place prior to the pandemic, and could swiftly adapt to the new way of teaching and learning, those institutions who sought predominantly to deliver in-classroom learning weren't as prepared, resulting in a scramble to implement student and learning management solutions in the peak chaos of the pandemic.
We sat down with CEO and Co-founder of Wisenet, Ben Hamilton, to discuss the challenges education providers are faced with amidst Covid-19 and how the education delivery landscape has changed since.
1. How has Covid-19 changed the way education is delivered?



We have all witnessed the effects of lockdown on various industries, including the education industry during the Covid-19 pandemic. Training providers across the globe were forced to shut down, resulting in over 1.2 billion learners out of the classroom.
Educational Institutions have moved online as quickly as possible, leading to classrooms becoming online spaces and teachers being virtual educators. No education provider has been left unaffected, leaving authorities with no choice but to quickly adapt and set up virtual classrooms for eLearning within a short period of time.
Pandemic aside, the education industry was already moving towards online learning, resulting in this once foreign method of teaching, being completely formalised and widely accepted, with the aid of electronic devices, student, and education management systems.
There are new challenges that the online education model poses including how to make content interesting and engaging, and importantly, how to make online learning social. Other challenges include the verification of a learners' identity during an examination, or how to prevent cheating. Fortunately, technology provides excellent solutions!

2. Why is a product like Wisenet important for transitioning to virtual learning?



Work or Study from home is here to stay, so it's vital that our customers have the very best collaboration and automation tools available so that they can build sustainable businesses.
We like to think of Wisenet as the glue that holds all systems used by training organisations together. As mentioned, training organisations globally have been forced to shift to eLearning and are becoming familiar with tools like Moodle, Canvas, Blackboard, and the like.
Wisenet does the heavy lifting of integrating systems for the entire student lifecycle, from inquiry to enrolment to graduation. This might include a customer's public website, online inquiry and application, a finance system like Xero, eLearning such as Moodle or Canvas, and tools like Survey Monkey.
The result is that our customers can choose the best tool for the job, confident that all their apps are going to work well together, without having to write any code!
With Wisenet, everyone including staff, students, employers, and regulators, have access to the right data, in the right format, at the right time.

3. Have you seen a larger need for a product like Wisenet since the pandemic hit?



Definitely. Institutions have sought to close the education gap brought on by the Covid-19 pandemic through the use of edtech. There has been a shift in focus to become more agile and function optimally, without disruption.
Technology is clearly the most cost-effective and efficient way to achieve this new operating model.
Institutions now more than ever recognise the importance of online learning, automated processes, management of students, internal tasks and processes, increasing enrolments through website strategies, and different ways of working calls for tighter compliance. This is exactly why comprehensive reporting is becoming more of a requirement.
I think Covid-19 has been an eye-opening experience for us all and has been challenging across all business sectors, but this definitely has taken a toll on the education industry, particularly those institutions that had failed to invest in technology and digital skills generally.
Because Institutions across the globe are ensuring automation across all aspects of their business processes, we have definitely seen an increased need for a product such as Wisenet.
4. What are the top 3 technology trends you think will have the most dramatic impact on education going forward?



Online Learning - Distance learning became a trend overnight during the pandemic, which has unfortunately resulted in schools across the globe closing their doors.
While some institutions may go back to traditional methods of learning eventually, the education industry and students have experienced the convenience made possible by eLearning. We will definitely see the continued rise in demand for online educational platforms. There is no turning back!
Artificial Intelligence (AI) - There is no escaping Artificial Intelligence (AI), not even in education. Besides giving each individual student a personalised learning experience based on preferences, AI has advanced rapidly over the years, making provision for simple activities such as grading. Long gone are the days where teachers manually mark hundreds or even thousands of test and exam papers.
AI has taken charge, auto-grading multiple-choice and fill-in-the-blank questions, and this is just the very beginning of what is yet to come. Canvas has already nailed this feature. Take a look.
Cybersecurity - The need for data security, regardless of the industry, is at an all-time high. Over 120 countries have put stringent data protection laws in place to secure the protection of data and privacy.
The education industry deals with all kinds of student information, and this cannot be compromised. Online data and cybersecurity are increasingly becoming regulated across the globe and education providers are wise to engage vendors who properly address matters of information security.
5. How can a product like Wisenet assist in overcoming these challenges faced by customers?



Wisenet goes beyond student management and provides connected learner management applications for higher training providers, corporate training, short course providers, and more. Colleges, education facilities, online training organisations, etc have started using our learner and education management system for multiple reasons; as a CRM for education, a student management system to keep students engaged and informed, as a means for colleges to manage their classes and their learners, and, of course, a student record-keeping and compliance reporting system.
Many have struggled to maintain quality standards as a result of manual processes. Since many organisations are now working from home, managing interactions, tasks, student enrolments and the like have become more difficult to oversee and execute using excel spreadsheets and multiple systems. Processes are a lot more disjointed since the pandemic, and so using a tool like Wisenet brings these processes together, into one easy-to-use application allowing staff to focus on the high-value tasks. Wisenet's all-encompassing student management system allows organisations to get on with what they need to do seamlessly, reducing chaos in these ever chaotic unprecedented times, while simultaneously allowing organisations to maintain a high-quality standard.
6. How can companies get in touch with Wisenet?



You can contact us directly via telephone, email or book a demo to learn more about what Wisenet has to offer.