The eLearning industry is booming (Australia's Online Learning industry was already worth about $5.9 billion in 2014!) and countless learning platform vendors are coming up and out with their own software, attempting to get a place in the Best of The Best ranks.
As Wisenet's API allows full integration with virtually any platform out in the World Wide Web, we've gotten lots of queries from clients on the types of Learning Management Systems that they could use.
Which ones have secured their place, and which ones would help you to do your job better?
Here's our take on Learning Platform Vendors you should look out for in 2016.
1) Edmodo
The safest and easiest way for educators to connect and collaborate with students, parents, and each other.
Edmodo -- a social learning platform -- has seen explosive growth in the past year, allowing it to take over Moodle for first place on Capterra in 2015.
Edmodo is better known for its Facebook-like interface, which most online users would already be familiar with. This makes Edmodo easy to incorporate into training plans in terms of training hours and resources required to get it going. It's also available on mobile as a native app.
In June 2014, Capterra reported that Edmodo has 120,000 customers and 20,000,000 users. In June 2015, Edmodo's customer and user base grew to 300,000 and 49,000,000 respectively!
Ranking on Capterra in June 2014: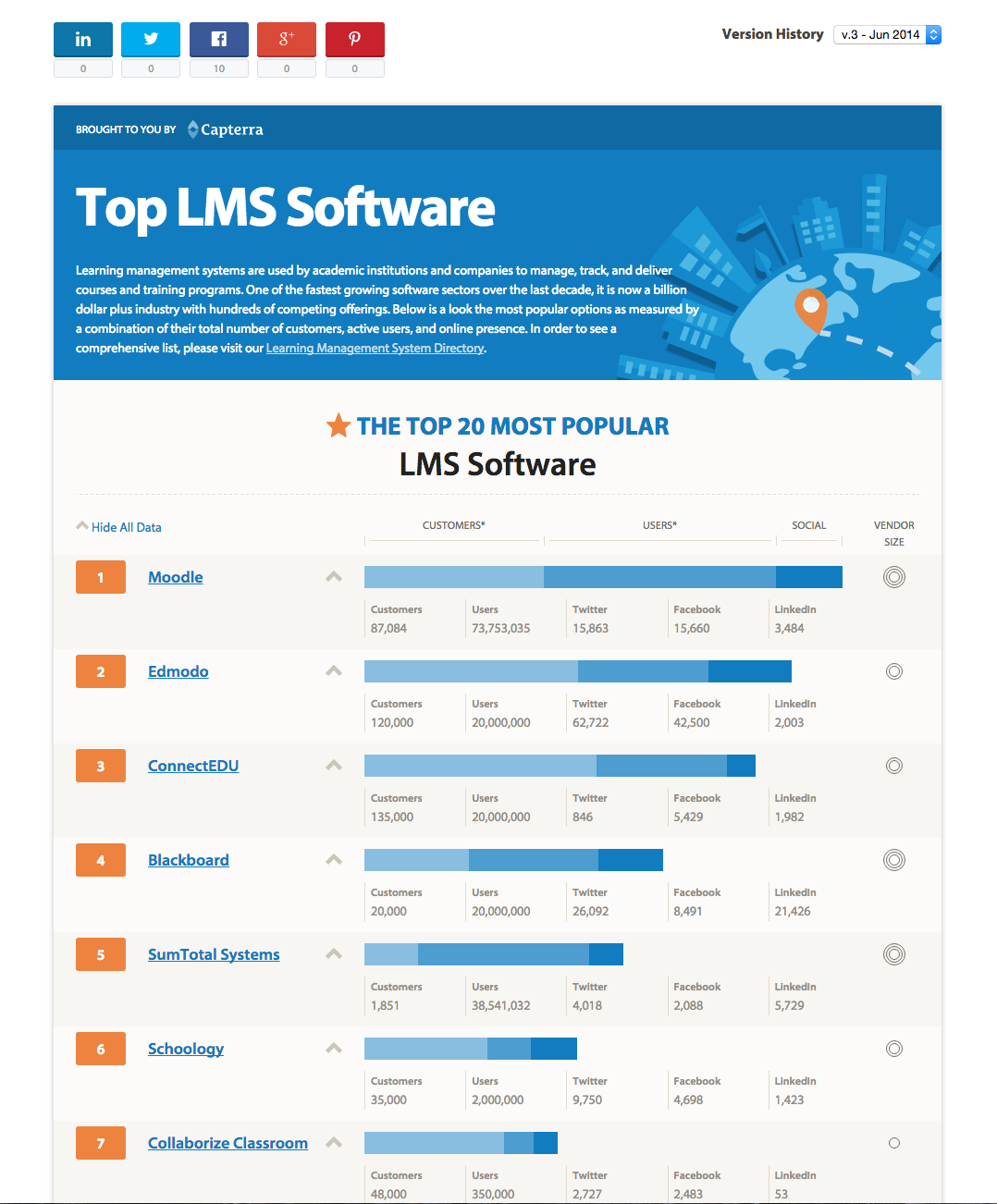 Ranking on Capterra in June 2015: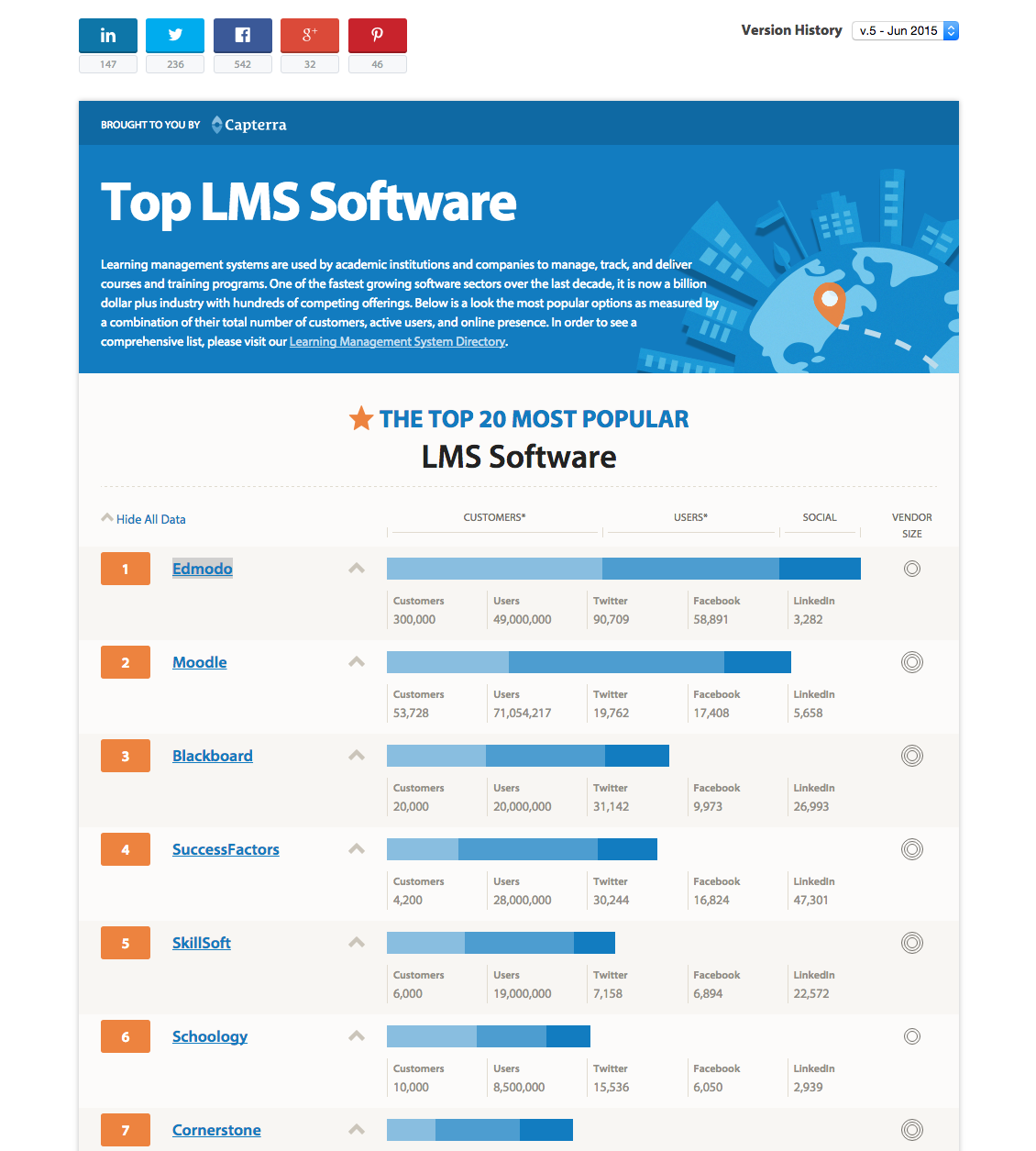 2) Moodle (Free, Open Source)
Community driven, globally supported.
Moodle is a free, open source PHP web application that training organisations can use to create holistic and personalised online learning environments. What makes this learning platform different from others is the strong emphasis on learner-centric tools and activities.
Its open source nature also allows for greater customisation possibilities and bandwidth that's easier to manage.
Pro tip: Moodle is fully integrated with Wisenet. Use Moodle connectors for seamless integration between your Moodle and Wisenet Learning Relationship Management system!
CTA: LMS vs LRM: What's the difference? Find out who's who behind the do > Link to LP describing how LRM complements LMS for more powerful actionable data.
3) CourseSites by Blackboard (Free, Open Source)
Move your courses online, free.
Sounds familiar? You guessed right - Blackboard has released a free version of their software known as CourseSites! This open source learning platform is geared for facilitating individual trainers/professors/teachers in the move towards web-based learning.
Use this trainer-centric platform as you like: from course lessons to material and assessment, they've got you covered. Your CourseSite could even be used as a virtual collaborative space for your learners and yourself.
Our favourite part here is the ability to login with a connected Facebook or Gmail account. Don't you love logging in with a single click? We sure do!
A lack of a physical location shouldn't stop you from conducting a course. Your course can be conducted online, anytime and anywhere, with a unique URL for your course.
4) Cloud Assess
Conduct effective assessment.
Operating in Australia? Here's a local solution that might make your VET life easier.
Designed just for Vocational Education Training (VET) providers, the Australian Cloud Assess is true to its name: it facilitates assessment for RTO trainers on the great cloud. They've also got a strong emphasis on compliance, which is essential for audits and funding requirements in Australia.
Compliance features such as Learner authentication (via signatures), audit retention, and unit assessment mapping are also available.
Pro tip: Wisenet is fully integrated with Cloud Assess. Use Cloud Assess connectors for seamless integration between your Cloud Assess and Wisenet Learning Relationship Management system!
5) SuccessFactors
Combine power, flexibility, and ease of use for learning administrators and end-users.
In addition to course and content management for your school, SuccessFactors provides analytical tools and employee progression/tracking.
We also like this platform because of course recommendations and ratings! You could think of it as Yelp for students here, and it's great that students are better able to make informed course decisions.
Interesting concept, huh?
From a marketer's point of view, word-of-mouth marketing (WOMM) has been the driving force behind social media and online shopping, so it's great to see it being applied in the education technology industry in a similar fashion.
Conclusion:
All Learning Platform Vendors strike out with different objectives, but the overall goal remains the same: to create online learning environments for trainers and learners alike, so that the lack of a physical location for a course will no longer be an obstacle.
Before you choose a Learning Platform for your school or organisation, always consider the needs before you make the investment, be it in time or money. Free/open source platforms don't always mean they're the best.
For starters, take this with you: 10 tips on choosing the best learning management system for your school/company/training organisation.
We've got part 2 in the works. Stay tuned!
Know of any vendors that should've been included here? Comment below to let us know!
Christabel Lum
Christabel is a Digital Marketing Executive at Wisenet. Content marketing, inbound marketing, and website development, and education technology are her latest adventures, because they make a fab combination of her favourite things: building things from scratch and writing.