Integrate with Sales+ to boost revenue

Connect Sales+ to ICAS for seamless application and student enrolment management and integration. You can now access, align, and act on your Sales+ data directly from your ICAS portal. The ICAS Connector allows for full integration between your Student Information System (SIS) and Customer Relationship Management (CRM) application.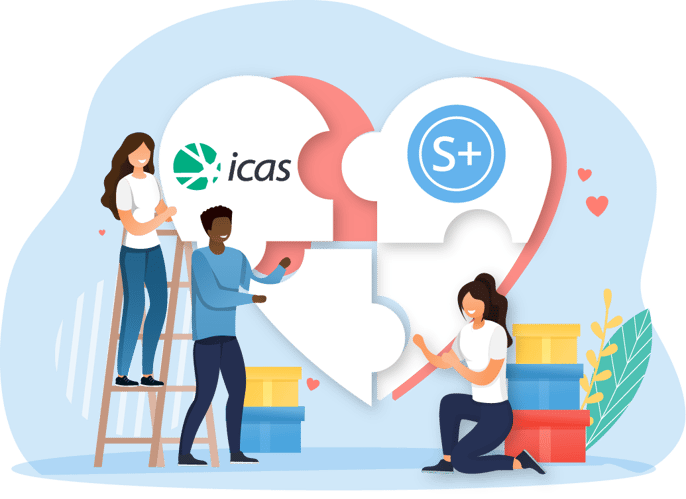 ABOUT ICAS STUDENT ENROLMENT SYSTEM
ICAS (Integrated Campus Administration System) is the enterprise offering of Wisenet providing a comprehensive desktop-based education management solution for Private Education Providers in Africa. Designed in conjunction with industry experts, ICAS optimises workflow and cooperation between your school administration, academic, finance, and sales function, all within one reliable and easy-to-use solution.
What can you do with this add-on
Collect enquiries directly from your website with customisable forms.

Manage online student enrolments directly from Sales+.

Progress each opportunity through your own stages in the sales funnel.

Nurture leads with more accurate and meaningful communication.

Reports and dashboards for better forecasting and decision-making.

Unlimited user access with 100% funnel visibility.

Comprehensive contact logbook to capture every conversation.

Automated messaging and tasks ensure that you are always up to date.
Frequently Asked Questions
Does the current SLA for ICAS apply to Wisenet?
Yes, both Wisenet and ICAS have the same SLA.

Does Wisenet fully integrate with ICAS?
Yes, by deploying the ICAS connector you can enjoy full data integration between the applications.

Would I have to pay separately for Wisenet and ICAS?
No, you will be billed as normal but with the addition of the Sales+ module as a line item.

What is the relationship between Wisenet and ICAS?
Wisenet and ICAS are sister brands within the Education Division of Adapt IT.

Who would provide onboarding and training for Sales+?
The Customer Engagement team for both ICAS and Wisenet will be able to provide full onboarding and training.

Does Wisenet have a local presence?
Yes, alongside ICAS, Wisenet has a full Customer Engagement Team based in Johannesburg, South Africa.

How can the local Wisenet team help us once we are set up?
The local Wisenet and ICAS team will be able to assist you with all queries via our popular support channels which include our comprehensive Resource Centre, over the phone, and by submitting a support ticket within the application.