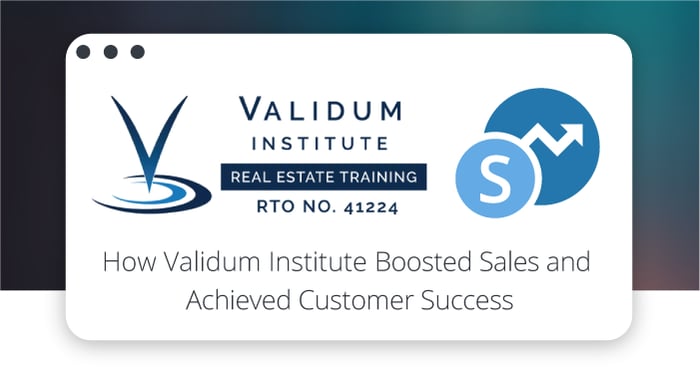 Validum Institute, a reputable institution for real estate licensing training, is proud to offer nationally recognised vocational courses in the dynamic field of real estate and has been a customer of Wisenet for more than 6 years. With a strong commitment to delivering quality education and customer service, Validum Institute has chosen to enhance its offerings by integrating Sales+, Wisenet's specialised CRM designed specifically for the education industry. Validum recognises the value that Sales+ brings to its operations and is excited to leverage its powerful features to streamline its processes further and grow its enrolments.

The Challenge
Prior to hearing about Sales+, Validum had already made significant progress in building its own CRM and e-commerce platform. As a CRM specifically designed for the education and training industry, Sales+ caught their attention. After careful consideration, Validum made the decision to switch to Wisenet Sales+ instead of continuing with development. Designing and maintaining their own platform would have been a considerable undertaking for Validum Group. It would have required ongoing maintenance and updates, but they also anticipated a lack of technical support to get things back on track if any issues arose. In contrast, leveraging Wisenet Sales+ mitigates these risks, eliminating the need for Validum to handle maintenance and updates to the platform. The fact that Sales+ was maintained, supported and monitored by Wisenet also provided Validum with assurance that the platform would operate reliably. Additionally, its ease of use and quick setup process encouraged founders Wei-Loong and Victor to see Wisenet Sales+ as the better choice for their business.
Validum faced the challenge of missing out on enrolments on weekends. Before incorporating Sales+ into their institution, students who'd enquired on weekends may have ended up enrolling with training providers who offered the ability to enrol online, especially when students who applied on weekends required assistance to complete the enrolment process.
"Our mission has always been to offer personalised support to our students, but we faced a challenge when our staff were not instantly available outside of regular office hours and on weekends. To overcome these obstacles, we sought a reliable and foolproof platform like Sales+ that would streamline the enrolment process and reduce the need for support calls. Wei-Loong emphasized the importance of this solution: 'With Sales+, we can now provide round-the-clock support and enable students to easily enrol in courses without any hassle. At the same time, we get the assurance that Sales+ is supported and monitored by Wisenet continuously.'"
The Solution
By partnering with Wisenet, Validum sought to elevate the student enrolment process for both students and internal staff. Their main objective is to create processes and workflows that prioritise the student experience. Validum's co-founders firmly believe that if an approach benefits the staff but fails to serve the best interests of the students, it is not worth pursuing. With a student-first approach, their aim is to seamlessly integrate a student-centric enrolment process, making Wisenet's Sales+ the ideal solution for the task at hand.
The Result
Validum Group has experienced substantial benefits from using Sales+ in terms of improved efficiency and streamlined processes. From a commercial standpoint, they are no longer missing out on any opportunities thanks to Sales+'s unique feature that enables students to enrol and purchase courses without the need for direct communication.
By using Wisenet Sales+, Validum Group has successfully streamlined its enrolment process. Now, the team receives instant notifications whenever someone enrols, which are automatically populated into Wisenet. As a result, the manual workload of the enrolment team in relation to data entry has significantly reduced, by up to 60%!
"We can now efficiently check the information provided by students, as it is already in Wisenet. We simply need to accept their enrolment, saving us valuable time. In the past, we had to manually enter the information, resulting in longer delays before students could access their courses," explains Wei-Loong.
Streamline your enrolment process and secure enrolments effortlessly. Get in touch with Wisenet today for a no-obligation demonstration and quote.