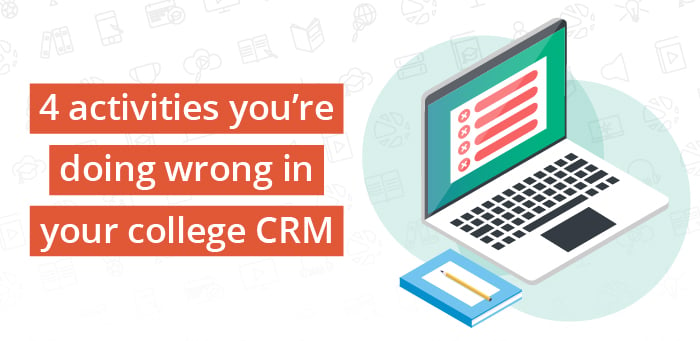 Customer Relationship Management (CRM) systems form the core of most businesses, and colleges or educational organisations are no different. College CRMs are used to make processes more seamless and efficient, connect and integrate various components for a structured outcome and ease up communication externally and internally. CRM systems have been around for a while now, leaving educational organisations with ample choice. Choosing the wrong system can be detrimental and can set you back, leaving you worse off than when you started.
To give you an idea of what mistakes to avoid when selecting a CRM system for your college, we wanted to highlight the things you might be doing wrong already. Here's a list of 4 activities you're doing wrong in your college CRM.
Not thinking about user experience



Give users the decision-making power
CEOs, directors, and managers generally make the call when it comes to selecting a CRM. This is all good and well if these members will be using the chosen CRM system, but it is quite often not the case. CRM solutions are often used by school administrators, payroll teams, etc. Getting the right people to research and demo the tool before purchasing will give users a sense of whether it will benefit your college or not while ensuring your college gets the features and functionality it needs. Having the correct personnel involved in the decision-making process will ultimately improve your educational organisation's goals around optimal functioning, enhancing revenue, and boosting your overall success.
Not thinking about scale



Choose a college CRM that can scale
Don't make the mistake of choosing a CRM in the spur of the moment, without considering your college's current needs. Think FUTURE! Your college may grow and flourish in the next two, five, or ten years. Select a college CRM that can cater to your predicted growth. By doing so, you will eliminate the activities of reselecting, learning, and adapting to a new CRM that can cater to your future growth. For example, should your college grow from 50 to 100 learners in the space of 3 months, you will be better off knowing that your CRM system can cater to this expansion.
Wisenet's per learner billing allows you to scale up or down, and allows for unlimited users, taking your college needs into account. You pay only for what you need, when you need it.
Complicated login increasing application bounce rate



Don't take social media for granted
Social media can be time-consuming and tedious for some individuals, but there's power in this ever-evolving platform, especially when it comes to business. The target market for educational organisations is made up predominantly of young individuals. The youth are driven by social media and use it in their daily lives. Take advantage of social media when choosing your college CRM system. Ensure that your CRM is not only capable of assisting with basic internal needs, but also has the functionality to promote sales through social media. For example, an end-to-end CRM platform will give your college the flexibility to allow learners to sign on or register using social media credentials.
Wisenet will be launching an exciting new product with this exact functionality. Keep your eyes peeled!
Opt for a CRM that has integration capabilities


Take advantage of unification for your educational organisation

While all CRM's are highly capable of storing and managing contact data, tapping into all its functionality can be very powerful. Colleges require several software tools and apps, such as project management tools, communication tools, etc, to manage the end-to-end sales process or student journey.
Integrating various software tools and applications with your college CRM can have multiple benefits such as automation of your end-to-end business processes. This ultimately has many additional benefits such as freeing up your team's time to focus on pressing activities, etc. Therefore, when looking for a CRM make sure it has integration capabilities to enhance efficiency within your college.
Think about the iPhone. When the Apple smartphone first dropped, many were at the frontline and grabbed one as soon as they could, only to realise that it had limited integration capabilities. Some third-party apps weren't supported leaving some very frustrated. Avoid being tied down to a limited CRM and ensure optimal integration before you make a decision about your college CRM system.
Enjoy seamless integration with your favourite LRM applications with Wisenet. We have an array of native and vendor-supplied education provider add-ons to take your educational organisation to new heights.
Having a college CRM system without excellent communication options may limit its usefulness


Communication is paramount

We've established that a CRM system is used to manage and enhance interactions with customers, to ease up internal processes, freeing up time so you can focus on pressing activities such as sales or new registrations. We've also established that integration is key. When selecting a CRM system, it is paramount that your chosen CRM integrates well with other communication software and tools, including email, SMS, etc.
Staff often spend excessive amounts of time on nuanced tasks, due to bad or no communication functionality in their CRM systems, resulting in manual processes. A good college CRM system should seamlessly take care of repetitive tasks and processes that can be automated.
Training providers need to interact frequently with their customers and internal teams. Having a CRM system that doesn't have excellent communication options may limit its usefulness.
Ideally, your CRM system will provide a variety of tools or ways to communicate, both internally and externally, and will report on or keep a log of all interactions. This will give your team full insight into all activities happening within your college, keeping you one step ahead of tasks at all times.
Wisenet allows you to send messages to individuals or even groups. Use templates crafted for straightforward and effective communication. Take a look at our various communication features and tools.