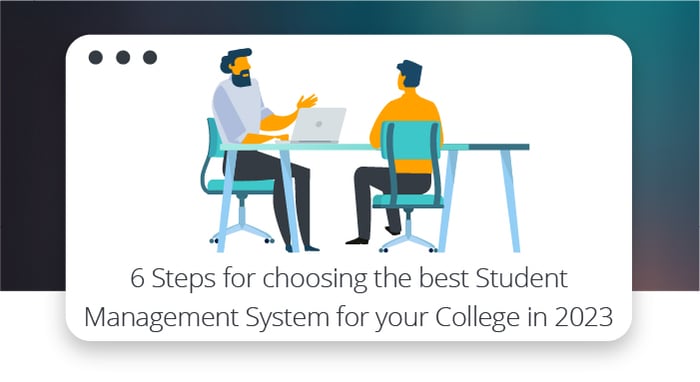 Technology has opened the way to efficiency and has continuously steered the approaches industries take to improve business processes and daily operations. Since technology is forever evolving it's critical to keep up with these changes for the benefit of your institution.
Education providers were forced to level up during the pandemic and with the help of technology, they could quickly conduct business as usual online. Now that most of the world is online, it is critical for education providers to keep up with edtech trends and ensure that they select the best student management system to keep up with the competition by providing the best student experience possible, allowing for a seamless, paperless, administrative experience.
Because all student management system providers claim to be the best, here are six non-negotiable, must-haves when selecting yours in 2023.
1. Fluctuating college enrolments must be accommodated
Just like the temperature fluctuates daily, so do college enrolment numbers. If the student management system you choose for your college does not scale or claims to be scalable, only to find out later that you have to go through various steps to adapt it to fluctuating enrolments, you should walk away. A system flexible enough to accommodate all the changes in your college is essential and should not be overlooked. Furthermore, this should be accommodated with a click of a button. Period.
Wisenet's per-learner billing accommodates your college fluctuations with ease.
2. Reviews, reviews, reviews - do your research
Companies will always oversell their products to make them sound like the cream of the crop. Because it's always better to know than assume, take the time to do your own research and look for authentic reviews and testimonials from current system users. Since the best customer reviews will always show face on a website, it's important that you take your research a step further by making sure the reviews you see aren't biasedly positioned to catch your eyes.
Look for unbiased, third-party reviews that are authentic and completely transparent so you have a clear view of the student management system you're thinking of bagging before bagging it.
See what over 200 customers have to say about Wisenet's student management system on the third-party platform, G2.
3. The proof is in the pudding
Before you bag your system, request a demo and then after the demo, request a trial run. This is the beauty of software. You're able to get a full view and feel of what the software is like and how it accommodates your college before diving in. Edtech organisations will be happy to assist you with a trial run if they're transparent and honest about their offerings. Take this step to make sure you're getting what is being sold to you.

Wisenet gives customers the option to book a demo, and if you like what you see we'll assist with a free trial too!
4. Is the student management system easily accessible?
Perhaps you currently have an on-prem system or a system that was built by an outsourced or internal team. Whatever you have or decide to purchase, make sure that the system you choose is easily accessible. Easy access means having the ability to access the system from anywhere and at any time, so long as you have a working internet connection. This removes the administration of having to be at a particular place, at a particular time to access your system. Since the world has become more and more virtual, with many, if not most businesses implementing hybrid models of working, it's imperative that your staff has the flexibility to action tasks conveniently. So, before you bag your student management system in 2023, ask yourself, 'can staff effectively action and manage the day-to-day activities and operations of the college anywhere and at any time?'
Wisenet's learner and education management system speaks to all of the requirements of running a training organisation. From managing sales to marketing courses, managing student records, to integrating with various vendor applications. All of it is covered in one easy-to-use cloud-based application.
5. Data Security is a top priority
We've said it before, but we'll say it again. A cyber attack is committed every 39 seconds, so skimping on security is NOT an option. Security breaches have escalated over the years and since everything is now online, cyber criminals relish the days we live in. Your student's data is a treasure and must be guarded against all possible threats. Opting for a student management system that takes security seriously with the likes of MFA, enforced domains, Secure Sockets Layer (SSL), secure hosting, etc is non-negotiable.
See how Wisenet keeps it private and confidential with data security management.
6. Support and resources = SUCCESS
You've managed to select a student management system that is scalable, loved by many users, reliable, easy to access, and secure. So where to from here? It takes practice and time to get acquainted with using a new system. For your college staff to become accustomed to the new system make sure extensive training and resources are included in the package you choose. This will give you a level of comfort to make the most out of your student management system.
Wisenet offers a range of support channels to ensure our customers thrive throughout their journey. We want to know that you are using your student management system to its full potential.
---
Choosing the right student management system for your college in 2023 can be overwhelming owing to the ever-evolving edtech landscape. Once you've made a decision, going back on this can be difficult and time-consuming. That's why getting it right the first time to make your college processes as seamless as possible from the offset is key.