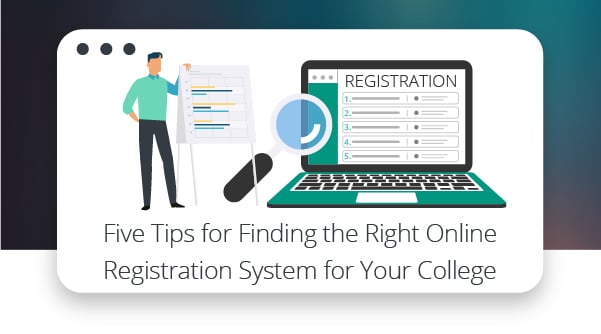 Edtech has revolutionised student enrolments for colleges. Online student enrolments have become a trend that has been well received by applicants due to the efficiency, effectiveness and ease it brings. The relationship between online registration systems and training providers has proven to be symbiotic too. Choosing the right online registration system or education CRM (Customer Relationship Management) for your college can also lead to increased user engagement and student enrolments. If you haven't yet acquired an education CRM or haven't reaped any positive results from your current system, then this blog is for you. Here are five tips for selecting the right online registration system to improve your student enrolment.
1. Cater to online student enrolments and more
Online registrations form an essential part of your college and have a high weight of importance. But so do the other various stages of the student lifecycle, such as student retention, graduation, alumni etc. Selecting a sophisticated online registration system that takes care of the student enrolment process is key. But making use of an education CRM that also has integration capabilities to synchronise with all of your college platforms, including your learner management system, student management system, and payment gateway, is bound to take your college to new heights. This will allow you to pull data from your online registration system into your student management system without the hassle of bouncing back and forth between multiple platforms to manually input information into the relevant systems.
See how Wisenet's Sales+ can remove friction in your sales process.
2. Online Registration System with easy payment gateways
If your online registration system is not increasing enrolments at your college, easing up processes, and reducing your website bounce rate you probably aren't using a system that mirrors your college's goals. Your registration system should have various features to keep students engaged through the enrolment journey. For example, easy payment methods for your college increase the chances of students completing purchases and can result in higher conversions on your registrations. Opting for a solution that provides built-in, secure payment methods is therefore highly advisable.
Give your students flexibility to manage applications, collect payments and more.
3. Bag simple student enrolments using mobile-friendly forms
There are a few reasons to invest in an online registration system that offers the creation of mobile-friendly forms. Search engines such as Google penalise websites that contain non-mobile-friendly items and you don't want your website to receive fewer registrations due to ranking poorly in search results. On top of this, mobile device traffic has surpassed desktop traffic. In other words, if your registration form does not work on mobile phones, you are at risk of losing more than half of your potential course and training enrolments. Ensuring you have a mobile-friendly online enrolment and registration system for your student enrolments is 100% key to keeping your prospective students engaged and keen to enrol.
Find out how Wisenet's Sales+ gives you the freedom to build mobile and desktop-friendly forms customised to fit your needs.
4. Easy-to-complete enrolment forms with zero clutter
Make it easy for students to fill out enrolment forms without challenges and roadblocks to prevent them from abandoning your college website. Having an online registration system that provides a secure, intuitive, and straightforward way to capture data, personalised to fit the needs of your college, will undoubtedly help. Removing form stages that don't pertain to your student is the first step. Since colleges have varying enrolment steps, such as uploading certain documents for vetting, filling in e-signatures, and the like, your online enrolment form shouldn't be a one fits all sheet. It should only contain information relevant to your requirements or course module offerings. Using an online registration system that can be customised to suit your college enrolment stages will eliminate the unnecessary steps as well as admin of students going through stages that aren't relevant to them. This allows for a quick, seamless process, eliminating any frustration that may arise.
Find out how Wisenet's Sales+ allows for forms to be built and customised according to your college needs with Zero code.
5. Let students save and resume applications - you can thank us later
It can be overwhelming for your students to complete a registration form in one sitting when they are juggling many tasks throughout their day. Rather than students jumping off your website to work on another task, give them the option to save where they left off and resume later. Take it one step further by sending an automated email to your 'almost student' to remind them of their incomplete application. Your students will be more likely to complete their registration forms without forgetting or getting frustrated at having to restart the process from the beginning.
Sales+ gives you full control of registrations allowing students to save and continue at a later stage.
---
Choosing the right online registration system for your college depends on many factors, including:
whether you need a simple registration system for your college that allows you to register students only,

whether you are looking to increase enrolments,

or if you need a comprehensive registration system that allows you to continue working with the student after registration all while increasing enrolments.
Wisenet's learner and education management system speaks to all of the requirements of running a training organisation. From managing sales to marketing courses, managing student records, to integrating with various vendor applications. Ready to take the next step with Wisenet's CRM for education? Enquire today and we will get you started.