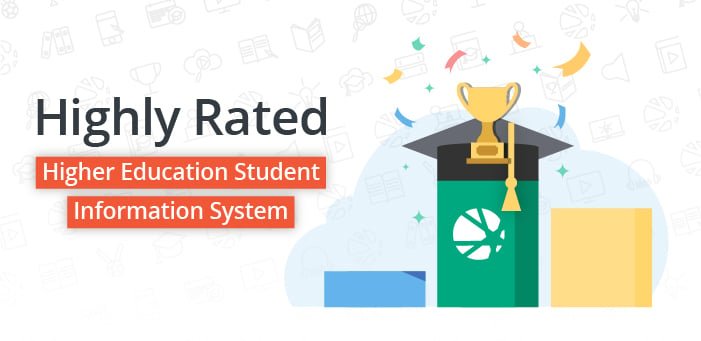 Wisenet is a highly rated student management system for a number of reasons. We dig deeper into them in this blog post. Read it here.
From its first application on a floppy disk in 1997, to quickly journeying into a cloud native app, and receiving a high rating on G2, it is safe to say that Wisenet has still got it. In fact, you could classify it as the best student management system.
Wisenet, a division of Adapt IT, is a highly ranked Higher Education Student Information System on G2, which is the largest and most trusted software marketplace, helping 6 million people monthly make smarter software decisions based on authentic peer reviews.
G2 scores products and vendors based on reviews gathered from the user community, as well as data aggregated from online sources and social networks. They apply a unique algorithm to this data to calculate the customer satisfaction and market presence scores in real time.
Wisenet has outpaced some big competitors in a highly competitive space and holds a whopping 98% satisfaction score on the infamous third-party platform. Here's what some of our customers enjoy about this future-forward student management system.
1. Easy To Use And Friendly Interface
As an education provider, you're spinning a lot of proverbial plates at the same time: onboarding students, analysing sales figures and projections, managing tasks, scheduling and invoicing, and so on. As mentioned by Wisenet's trusted customers, Wisenet reduces the number of pieces of software to manage all components and places all features into one, single, and easy-to-use platform. This is the future of learning management systems.
With a total of 150 reviews recorded on G2, Wisenet received an 84% "ease of use" rating and is ranked number one on the G2 top 8 easiest to use Higher Education Student Information Systems.
Have a look at what our customers have to say about Wisenet's user-friendliness.


Simplicity and compliance are my major likes . Simplicity in everyday use is important as it is such a time saver and when another staff member is required to back me up they can complete tasks easily.

We like the ease of searching for and accessing student information, and the ability to upload relevant communcations etc to student logs.

I just love that all controls are at your fingertips and highly accessible. It is easy to use and the support staff are very helpful.
2. Impeccable Quality of Support
Wisenet student management system received a 90% rating on G2 for providing quality support. Since your success is our priority, we take pride in providing world-class support to all customers through numerous channels, giving you the option to contact us through your medium of your choice.
Comprised of people with real industry experience in learner management, our support team is on-hand to deliver timely help whenever you require. You can also consult our extensive online resources available to you 24/7, but we are more than happy to further assist through the channels below. We are always waiting, prepared, and delighted to hear from you.


CONTACT US THROUGH YOUR COMMUNICATION
CHANNEL OF CHOICE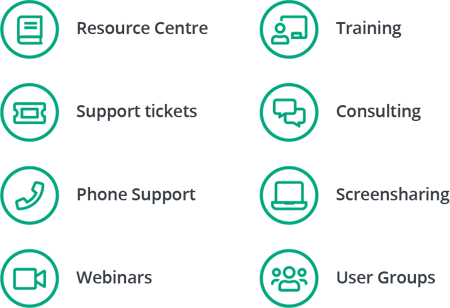 I love Wisenet Resources, their responses to tickets that I logged, the learncycle feature, uReport feature, and the Task feature.
We love knowing that our customers recognise our timeous and hands-on support. Take a peek at what they have to say about our support.
3. Ease Of Doing Business With Seamless Integrations
Wisenet boasts a variety of add ons, allowing you to enjoy seamless integration with all of your favourite apps, such as Xero, Moodle, Survey Monkey, Canvas, and WordPress.
These experience-enhancing platforms integrate easily and allow you to continue using your preferred platforms by simply syncing them with Wisenet at the click of a button, making your institution processes efficient, seamless, and accessible from one single application.
Most recently, Wisenet received an incredible 92% rating for "ease of doing business with" on G2, as rated by Wisenet customers.

The team support - excellent team support when needed. You can log tickets or discuss them with an actual team member.

An SMS that has integration with other systems from Assessment Management, Data Managment, Surveys to name a few - all in one easy to use online platform accessible from any location or device.

Wisenet integrates with our LMS and accounting software, streamlining our student interactions. They have made our transition to TCSI easy.
Take a look at what our customers have to say about their experience in doing business with us.
4. Feature Filled, User-Friendly Student Management System
Wisenet customers take delight in features that save them time, are effortless to use, and elevate their user experience. This is why we have Learncycle Workflows, one of our original productions allowing you to automate the laborious and admin-intensive tasks with a powerful workflow engine.
This is evident in the 84% rating recorded by G2 for being "easy to set up". From sending out bulk emails, to tracking tasks, and creating customised reports, all features are intricately designed, taking your education providers' needs into account. Furthermore, we listen to our customers' needs and are continuously looking at new features to add value to your processes.
Here's what our clients have to say about Wisenet's features:

Wisenet is cloud-based which is great for accessibility. It is also powerful enough with the right integrations to handle most functions required of RTO Student Administration.

Very prompt service for support and training, simple to use and excellent features for compliance reporting.
We would love to hear about your experience with Wisenet. Do you agree that it's the best student management system? Drop a comment in the box below and let us know.