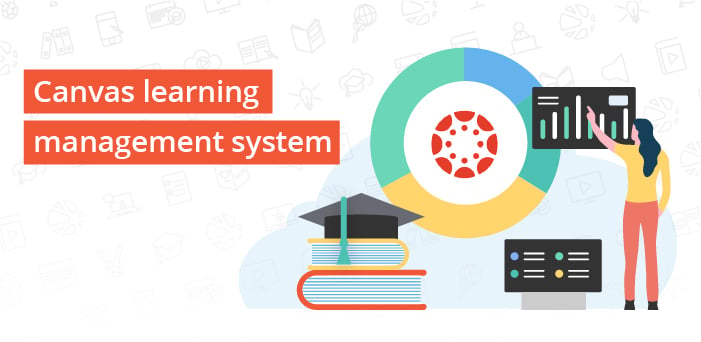 Canvas is a learning management system for education providers to keep up with trends, education needs, challenges and delivery.
In our fast-paced world, technology has no doubt impacted every single sphere, including education. For this reason, nothing stays constant, including technology. Everything must evolve and improve as the needs arise. Canvas has exceeded expectations in this regard, keeping up with trends, education needs, challenges, and delivery.
Canvas, a world-renowned online learning management system for schools, districts, and universities has been the learning management system of choice for thousands of education providers globally. Built to make teaching, as well as learning easier for everyone, from the littlest learners to college faculty and business leaders, this all-encompassing learning management system is used to manage and upload online educational resources classrooms by taking attendance, upload and manage all education resources and activity, and post grades while students log on to check and complete assignments, view course materials, and monitor their grades.
As of 2019, 30 million users across the globe have taken the liberty to use this continuously innovative learning management tool to manage their end-to-end processes. With the rise of the Covid-19 pandemic, users continue to increase exponentially, and by now, we are quite sure you're wondering, "What makes Canvas so popular and loved by its users?".
There is so much we can say about the Canvas learning ecosystem, but in an effort to avoid writing a novel, here are just a few of Canvas' education-boosting benefits:

1. Grade On The Go And Enhance Your Teacher And Student Experience
Canvas is a prerequisite for removing the administration and paperwork that comes with grading multiple assignments, quizzes, and tests. Students always have a clear view of where they stand in their chosen course because the Gradebook in Canvas is available at all times and can be accessed from anywhere. It also comes with the infamous Speedgrader tool, which is a most loved tool for education providers. The tool cuts grading time in half, making this activity super quick and easy for teachers. Moreover, assignment integrity is never questioned as Canvas enables uploaded submissions, auto-graded assignments, instant feedback, time-stamped entries, annotations, automatically weighted assignments and much more!
With Canvas, you can kiss wasted time of going through tons of student papers goodbye! Gradings are seamless, fast and simple, saving you ample time and effort. Rhetorical question, but why would anyone pay for an online grade reporting system if they have Canvas?

2. Everyone Gets An App
Yup, we said it! Everyone gets an app, meaning teachers and students can access the Canvas learning management system on the go using top-rated mobile apps. The hassle of switching on your desktop to access Canvas does not exist in this very fine world of education, allowing you to be on top of all tasks and activities at all times. Teachers are able to engage with students wherever and whenever through native mobile notifications and Canvas apps that come with best-in-class data security and accessibility.
3. Easy Student eLearning Setup
Software can be a nightmare to set up and navigate through at first, but not with Canvas. Simplistic, easy, user-friendly, and aesthetically pleasing, are just a few of the words used to describe the learner management support tool. There is very little need to be technically inclined, meaning that all levels within your institution will happily be able to navigate through the tool without frustration.
The dashboard is clean and modern with easy navigation on the left sidebar for courses, account information, calendar, inbox, and help. Published and unpublished courses are displayed on your default home. The settings menu is super simplistic with nothing cryptic even for non-technical people. Setting up courses is a breeze with a 'Course Setup Checklist' button available inside each course shell you create. There is a walkthrough for each element of a course from content to publishing your course. If you have an existing course, you can simply import the course with several formats supported, including, but not limited to Blackboard, Moodle, and zip. For education providers at various institutions, you can import and customise where the need arises for the different institutions. It also integrates easily with other services like Google Drive, Office/Docs, and others.
4. How Tools In Canvas Maximise Interactions And Ease Communication With Students
Great communication is the heart of any thriving school. The goal is to communicate continuously in a clear way, using the correct communication channel to receive optimal results. This is why we love Canvas as a learning relationship management tool. There are plenty of options to choose from, and each channel is used differently, and in some cases at the same time.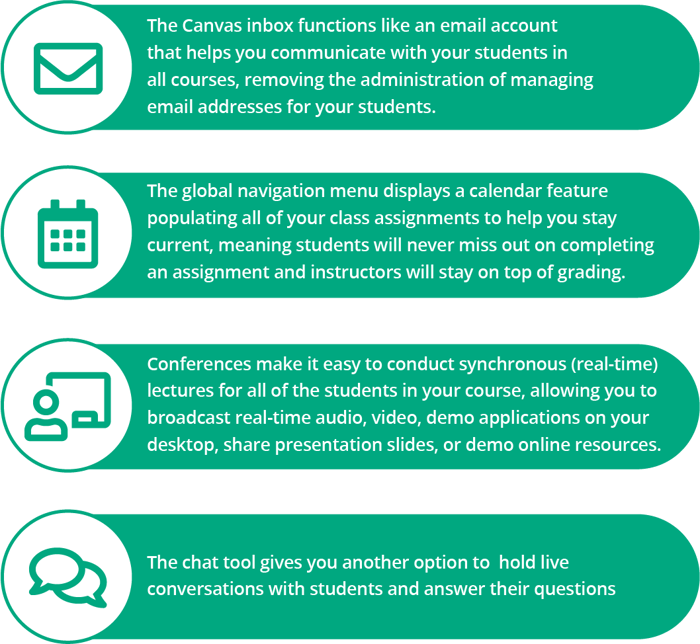 5. Canvas Supports Custom Integration With Your Learning Management System
Canvas supports custom integration with your student management system and open integrations with your favourite education apps. This gives you the freedom to keep using your tried-and-true content and tools, and the option to try some new ones too. If you are happy with a particular student management system and enjoy its functionality, you don't need to stop using it to enjoy the benefits that Canvas brings. eLearning Connectors allow for seamless integration between Canvas and your student management system in just a few simple steps.
Not only do eLearning Connectors make working with your existing and favourite tools possible, but they do so in a seamless way. Have you ever experienced the hassle that comes with setting up courses and educational content? Or spent heaps of valuable time on the tedious manual process of managing your eLearning enrolments and double entering of grades? If you answered yes to one or both questions, you will be delighted to know that eLearning Connectors have demolished this struggle, allowing you to streamline integration with your very own student management system.
Most recently, Canvas and Wisenet became a #PowerCouple – with the positive outcome of bridging the integration gap between Wisenet as the student management system and the Canvas learning relationship management.
This powerful collaboration boasts a ton of integration benefits that are sure to put a smile on your face!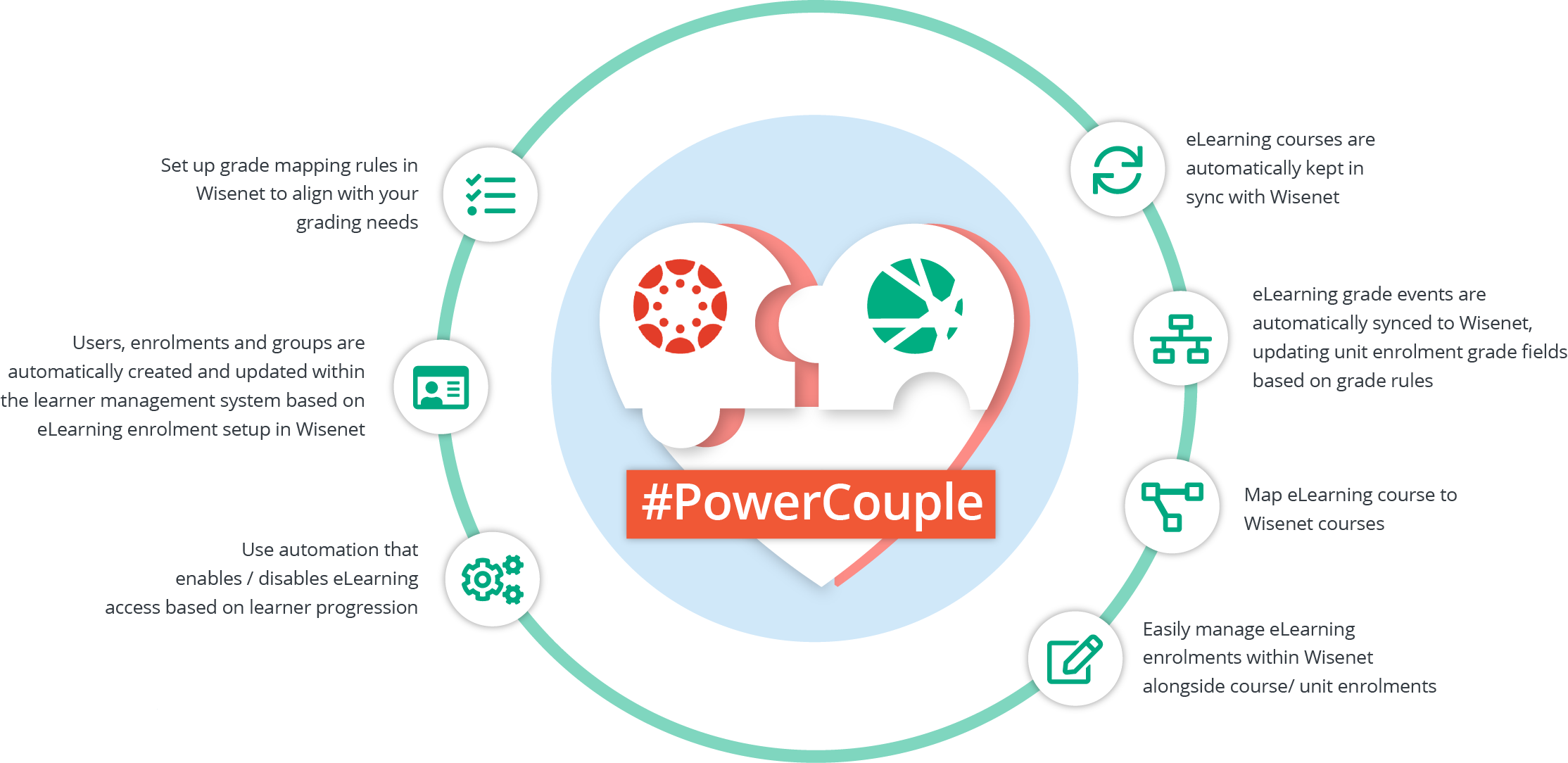 The integration is key to managing your role as an education provider holistically, resulting in less time spent on manual processes all while eliminating room for error.
We would love to know which Canvas features are your favourite. Share them with us in the comment section below.