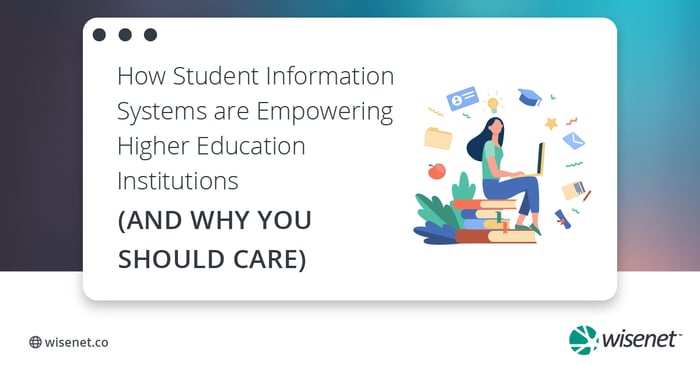 Higher education institutions are inundated with a host of tasks throughout the student journey. One of the critical things that they need to consider is how to ease up processes and increase productivity while removing room for error to allow and create better outcomes.
It is a known fact that technology, or specifically edtech for education institutions, can improve operations having a rippling positive effect on internal processes, the student journey, and overall student experience.
In this blog, we touch on some of the most frequent challenges education institutions face and how you can overcome them with an all-encompassing Student Information System (SIS).
1. Say goodbye to administration and error
Manual processes have held education institutions back for far too long. With the rise of edtech, including all-encompassing student information systems, universities have quickly moved away from manual processes and now enjoy the benefits and empowerment that come with edtech systems. Drowning in administrative work, correcting errors, switching between spreadsheets etc, are all abolished with a click of a button. This gives universities the assurance needed, allowing them to achieve optimal, accurate results with little to no frustration. Universities can rest assured that tasks will be completed on time, accurately and systematically, empowering them to focus on other pressing tasks.
See how Wisenet's all-encompassing student information system can empower your university and manage the entire learner lifecycle.
2. A safe secure environment for Universities
Unfortunately, we live in a time where cybercriminals relish the days we live in. As companies globally transition to online working, the landscape for cyber security attacks has rapidly increased. To put this in perspective, in 2017 almost 197 million records were exposed due to data breaches. This number grew to a whopping 37 billion in 2020 even though the overall number of data breaches had decreased. As a training provider, you're dealing with enormous amounts of personal information of staff and students. Putting this information at risk is not an option. Since security is everyone's responsibility its importance should not be discounted. Student information systems like Wisenet empower training providers by removing the burden and stress that comes with security. Wisenet uses Secure Sockets Layer (SSL) encryption for all users and customers connecting to Wisenet. As an industry leader, Wisenet ensures to partner with the best Information Technology providers to make this a reality, such as Amazon Web Services (AWS), which is the world's most comprehensive and broadly adopted cloud platform, offering over 165 fully-featured services from data centres globally.
Furthermore, universities that opt for our premium edition get access to a feature called Enforced Domains. Usually, a training provider will enforce domains when they want to enforce extra security to control which domains can access Wisenet and also leverage the social logins Two-Factor-Authentication (2FA). When enabled, this enforces that Users can ONLY log in to Wisenet using a social login with a specific domain.
If you try logging in with a username/password OR with a Social Login domain that doesn't match the enforced domain, you will only be able to see the Login Options page to manage your Social Login.
Want to know more? Download our Product Fact Sheet here.
3. Real time-collaboration is key
Higher education institutions always going through changes and updates. Whether your students are transitioning from learners to graduates or you're assigning and actioning tasks, it is critical to stay up-to-date with everything happening within your university. Student information systems give an overall view of all the happenings within a university in real-time.
Users can update information concurrently, and save it automatically, removing the added communication and administration of checking up with colleagues on the status of tasks. Cloud-based SISs empower universities even more by giving them a shared space that can be accessed on any device, anywhere and at any time by simply logging in to the software.
4. Bagging University enrolments has never been easier



You've bagged your SIS, removing administration in a safe and secure environment that allows you to collaborate and update tasks effortlessly and concurrently. But, does your SIS have a college CRM it integrates with to boost enrolments? We've discovered that managing your college with a student SIS frees up time so with all your time saved, why not focus on increasing enrolments with a college CRM?
There is so much power in using an all-in-one SIS. Wisenet's college CRM allows you to sell courses on your website, take online enrolments and applications for your education and training facility, and collect payments all from our powerful, easy-to-use e-commerce platform for higher education institutions.
Let us elaborate on how empowering an all-in-one system is for universities like yours.
---
From staying in touch with students to managing the complete student lifecycle and boosting enrolments - universities spend a considerable amount of time on administrative tasks.
Edtech can play a significant role in easing this burden. This is why universities must consider ways to empower themselves and modernise their manual processes so that staff can spend more time on activities that have a positive impact on students and the university at large.