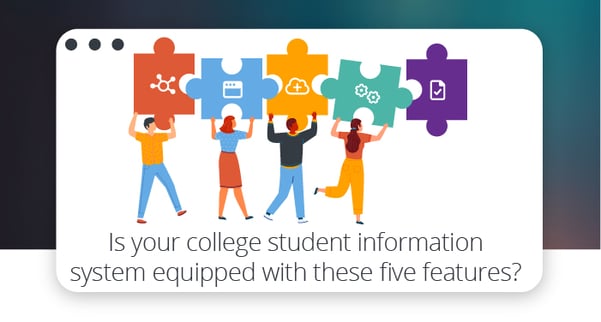 Navigating the crowded edtech market can be overwhelming when trying to decide which Student Information System (SIS) is best for an educational institution. To make the decision easier, here's a back-to-basics explanation of the basic features your college SIS should have.
Many vendors will boast the features of their products, making it difficult to differentiate between products and understand the true value each offers. This is understandable, as the e-learning market is projected to reach $840.11 billion by 2030.
Understanding the core purpose of an SIS solution is key to making an informed decision. Doing so can provide the necessary insight to ensure the chosen solution meets the requirements of an institution.
Fortunately, there are some key things to look for when selecting an SIS. Here are 5 essential features an efficient Student Information System should have:
1. Integrate with your existing college applications
When researching the Student Information System market, make sure to look for providers that guarantee a smooth integration process. If your college already uses Xero for seamless connectivity between finances and payments, or SurveyMonkey as its survey platform of choice, choosing an SIS with pre-existing integrations will make the transition easier. Alternatively, ensure that the system you select allows you to connect to any third-party LRM applications through an API, so you can reliably and securely integrate the tools that your educational institution needs.
Wisent makes it easy to integrate your favourite LRM applications into your educational environment seamlessly. Take advantage of Wisent's native or vendor-supplied education provider add-ons for a hassle-free experience.
2. User-friendly and clutter-free
When evaluating a student information system, one of the most crucial aspects to consider is how easy it is for educational staff to use. While an SIS may have all the features you require, if the system is overly complicated and makes it difficult to access information, your team won't be able to make the most of it.
Look for an SIS that has a straightforward, intuitive interface which enables even beginners to quickly find what they're looking for. To get a better understanding of the system, it's recommended to ask the provider for a demo or free trial to test the platform before signing up (most providers will happily oblige). This gives you the opportunity to explore the system and identify any potential issues your staff may experience.
In today's world, user-friendly also means mobile-friendly. Your staff may need to access the SIS from anywhere, and you'll want to ensure the design is easy to use from a mobile device. If the interface is not optimised for smaller screens, or if some features are missing, then it may not be the most suitable choice.
3. Ability to scale, store and manage data
As a college, it is essential to have a well-designed Student Information System that can effectively organise and manage large databases. A modern SIS should provide centralised access from various points and devices, so data can be easily accessed and shared.
This software is designed to support administrative tasks, such as tracking student records, and attendance, managing library databases, tracking admissions process, organising course schedules and handling financial information.
Not all SISs are created equal, but the most important feature for any institution is the ability to store and efficiently manage data. Additionally, it is beneficial to have an SIS that offers scalability, so it can be adjusted to the specific needs of the college.
4. Automate Tasks and remove manual processes
The Student Information System can automate both administrative and educational tasks, providing a streamlined solution to repetitive, manual workloads. This capability is essential in a college, enabling the SIS to handle inquiries, send reminders, have a built-in notification system, manage to schedule, and keep track of the financial flow. College decision-makers should ensure that the SIS they choose meets their exact requirements in terms of automation, as different realisations may offer varying levels. With an educational tone, the SIS you choose for your college should provide an efficient and reliable way to streamline processes and free up valuable time.
Maximise efficiency and precision with Learncycle Workflows, a Wisenet original production. This powerful tool allows you to program and automate processes, tailored to your training organisation's student lifecycle events in real-time.
5. College compliance reporting done in minutes
Educational institutions have a lot of responsibilities when it comes to compliance with policies, standards, and procedures. That's why the built-in reporting feature of the Student Information System is so important. It offers time efficiency, cost reduction, and improved visibility into potential issues.
With a reporting tool, colleges can track and analyse data related to admissions, drop-out rates, financial operations, classroom achievements, and the effectiveness of teaching staff. This reporting capability is essential in helping colleges gain valuable insights and make informed decisions. Ultimately, the Student Information System you choose for your college must provide a powerful reporting capability that can drastically improve the performance of your college.
Wisenet is the perfect solution for your college's reporting and analysis requirements, from finance and marketing to academic progression and performance. Need custom documents like certificates, statements, and training plans? We have the tools to help you hit all the right notes.
---
At Wisenet, we understand that a Student Information System needs to meet the needs of your college. We build educational software with an engineered and compact set of tools that can be handled in a few clicks, making it both structured and easy to use. Our SIS supports administration, reduces workload, and helps students. Plus, it's intuitive and user-friendly—no need to struggle with complex software that nobody can understand.
Schedule a demo today and see how Wisenet's SIS can transform your college.