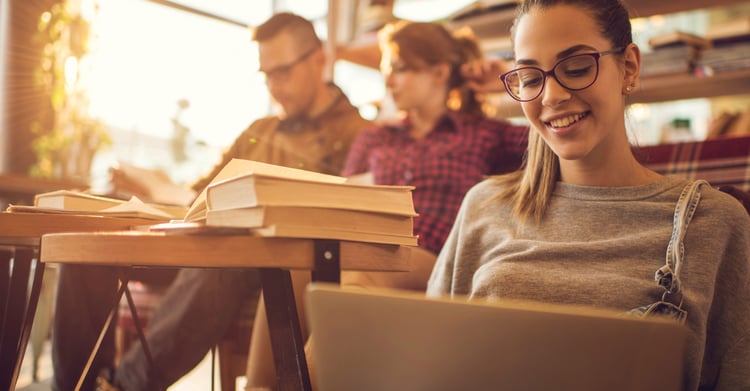 Too many apps. Too many data sets. Too many teams needing access to the same files.
We've all been there - the hassle of entering data multiple times across multiple systems. Unless your business has upgraded to the cloud, the several thousand character journey is one that countless individuals are forced to make daily.
But here's some good news: those days are now over if you are using Wisenet & Moodle.
Replace painful manual processes with automation that is as easy as getting your Facebook and Spotify up and in sync.
Our Product team has completed and shipped a brand new series of Moodle connectors that work just like LEGO blocks do. And all you need to know is that this is going to make your job easier and simpler with less risk.
Rising Up To The Challenge
Most training organisations have learners joining (and leaving) them every day, and thousands of records change on a daily basis. In Australia alone, in 2013, vocational education providers and registered training organisations saw completion rates of 34% and subject load pass rates of 83.1%; the industry also saw 1,372,968 commencements and 582,707 continuing learners (NCVER, 2015).
Just imagine the sheer number of records that need to be updated every day! The move towards e-Learning platforms or online learning has solved countless problems for providers, but it has also resulted in just as many technological obstacles and expertise gaps.
We understand that different training providers have different needs for assignment and unit mapping. That's why our team set out to upgrade the Wisenet-Moodle integration to allow the greatest flexibility for all training organisations of any size and scale.
How It Works:
1) Set up the new Moodle Grade Connector and set permissions on who can lock a Moodle Grade
2) Choose the mapping between Wisenet Units and Moodle Assignments
3) Grade Moodle Assignments per Learner and have it update their Wisenet Unit Enrolments
The mapping options between Wisenet Units and Moodle Assignments are illustrated below. In short: keep things simple, or run free with the variety of possibilities of database mapping!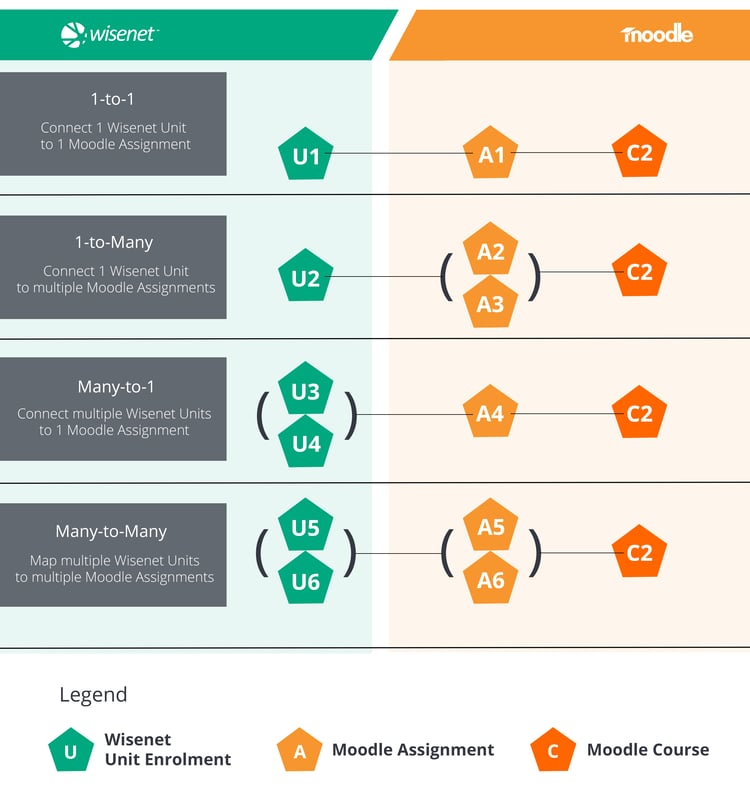 Moodle Integration benefits your training organisation
New Enrolments: Effortless Syncing Without Swimming
Once you've set up the integration between Wisenet and Moodle, you're all set to sync enrolments with Moodle.
It's just like having your driver license details being available across all counties and districts. Or having your Facebook data sync with your Spotify account, complete with Single-Sign-On Authentication.
New Authentication: One Login For Multiple Apps
Going back to the Facebook-Spotify example, this integration allows all of your Learners to enjoy the same benefits of accessing multiple apps with one username and password. For example, your Learners can access their Learner App or Moodle accounts with the same credentials!
This is because Learner App credentials are auto-generated for your Learners upon enrolment via Wisenet, so they'll never have to deal with the pain of having multiple passwords and usernames to recall.
That doesn't just build reliability, it also builds trust, the currency of today's economy.
New Grade Locks: Speed & Accuracy Without The Fuss
Outcomes are automatically set against Unit Enrolments once you've locked grades in Moodle, so you'll never worry about data inaccuracies or missing records ever again.
New Workflows: Automation Made Easy
Compatibility with Learncycle Workflows - our latest automation framework - was also included in this release.
Enable or disable e-Learning access based on key events in the Learner Journey. For example, switch on Learner access to Moodle upon enrolment confirmation for any Learner who joins your training organisation, or have it disabled upon completion or withdrawal.