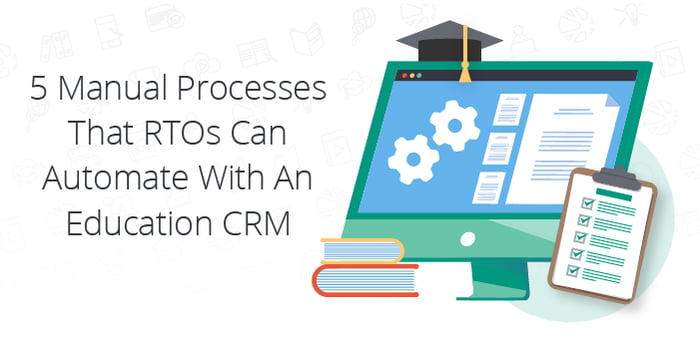 Automation, particularly while managing a global pandemic, has grown and become a permanent fixture in the way businesses operate. According to CB Insights, it represents an estimated $337B global market. More learners, particularly since the pandemic, are accessing online learning with RTOs. This number has grown from 21 million learners in 2016 to 92 million learners in 2021. If you think that automation is a stopgap, this should be proof enough that it is much more.
Businesses that have adopted automation using an education CRM before and during the pandemic enjoy the benefits that come with it. Those that haven't yet taken it upon themselves will gradually shift to automation to keep up with demand and competition to not fall behind and lose profits owing to manual processes.
Image: The World Economic Forum shows the increased adoption of online learning
The Education Industry and Automation Using Education CRMs
The manufacturing industry has taken the lead with automation, and many other industries including the education industry have followed suit realising the power of automation. The decision to use education CRMs to drive processes, such as student engagement and recruitment, analyse data etc, to guide and manage decision-making has become increasingly important.
RTOs that wish to stay one step ahead and make an impression in an ever-increasing competitive market must keep up with education CRM technology and advance with the times.
Students ultimately decide the fate of a college and rely heavily on mobile devices. It's up to RTOs and colleges to cater to student needs and be at the forefront of automation to drive enrolments and increase applications.
If you want to manage a successful college productively, you must use a system that can speed up processes, remove errors and increase efficiency. Automation does exactly this and is a must-have for colleges who want to stay relevant.
1. RTO admissions with website automation
The first step a prospective student takes after researching potential study-worthy institutions is enrolling at a chosen college. This can be a time-consuming process for learners if your college website is partially or far from automated. To give students a good enrolment experience that keeps them engaged throughout the processes, your website must be user-friendly.
Using an education CRM designed to simplify the receiving and processing of online enquiries and applications will allow you to streamline your sales process by:
Collecting Online Enquiries and Enrolments/Applications

Nurturing Enquiries, Opportunities and Enrolments

Publishing Courses in one click

Customising form design, branding and the form submission process
Education CRMs are packed with so many tools and features to ease up the student enrolment process. Features such as autofill, for example, give students the ability to complete data in browser forms without them typing it in full. This will save your potential students time and reduce the chances of them getting frustrated and bouncing off of your website.
2. Save time with back-end automation
On the backend, once you have an influx of enrolments at your college it can become overwhelming for your administrators to manage enrolments. Automation has a double-sided advantage in this instance. Instead of administrators replying to every learner application, email automation can be used to send bulk customised auto-replies. Include your student's name, to make the response more personalised, or individualise the body of your email. Your learners will love the quick responses, giving them peace of mind that their application is well received.
See how Wisenet can fill the automation admissions gap at your college.
3. Automated sales processes equate to increased efficiencies and enrolment

If your college needs to put an end to inefficiencies and increase online enrolments, your sales process is probably a prime candidate for automation.
By automating the sales process, you can:
Accelerate processes,

Enhance the student experience,

Reduce costs,

Remove errors, and

Bolster interest and enrolments at your college.
Manual sales processes hurt the effectiveness and efficiency of colleges. So while colleges bring up several explanations for dragging their feet on automating processes such as lack of budget, fear of the unknown, strained resources etc, moving from legacy, or manual ways of managing your college sales process to automation is a barrier that must be overcome to reap the benefits your college needs.
Just think of all the time your staff is wasting inputting data into excel spreadsheets, or working back and forth between legacy systems that don't integrate.
The sales process with the help of automation can take your college from soup to nuts in an instant. With the right education CRM, automated workflows can be set to trigger at different stages of the sales process to help you stay on track with every step of the process.
4. Integration and automation are two sides of the same coin
Integration automation can minimise and even prevent human error in RTOs if set up correctly. Using multiple systems that don't integrate requires some sort of human intervention to get to your outcome. For example, if your college uses a learner management system that does not integrate with your student management system, you're probably bouncing back between the two systems multiple times a day to extract reports, monitor tasks and respond to learner enrolments. This can be extremely time-consuming and may result in errors along the way.
Since automation is known to prevent or at least minimise human error if set up the right way, using a system that has automation integration will allow your systems to speak to one another without the need to bounce back and forth between systems to get to your desired outcome.
Automation integration:
Allows all systems to work together,

Increases productivity and data consistency,

Removes the manual process of going back and forth between spreadsheets or different systems,

Provides increased communication between your chosen systems.
So, when shopping for a student management system, it may be worth going the extra mile to select a system that integrates with your current system.
Integration allows your staff to focus on strategic initiatives and other pressing tasks to drive your college forward, instead of spending heaps of time on manual data entry or spreadsheets to manage learners.
5. Remove error with Autograde
Digitisation has surely paved the way for so many processes to be done in a simplified way removing human error. But one very exciting benefit for the education industry that has arisen from digitisation and is an absolute must-have for colleges is auto-grade. This tool cuts grading time in half, making marking super quick and easy!
Gone are the days when teachers and lecturers spent hours marking piles and piles of papers. Auto-grade removes the hassle, time and errors that come with this task, cutting grading time in half.
See how Canvas's most loved tool, Speedgrader can free up time at your college.
---
Just like many businesses, RTOs are under a lot of pressure to increase enrolments, reduce costs, and provide students with the best student experience. This is where automation can play a huge part and change the game completely.
Wisenet's fully fledged all-in-one solution automates the entire learner lifecycle, from enrolment to graduation and beyond. See how Wisenet can enable you to remove friction from your sales process by selling courses on your website, taking online enrolments and applications, collecting payments and more!