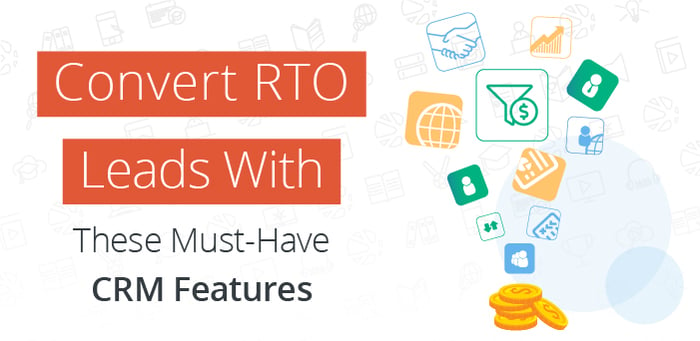 Your student management CRM is a powerful resource that can help you build your RTO business while easing day-to-day tasks simultaneously.
Customer Relationship Management (CRM) systems are advancing rapidly. Customers are spoilt for choice with over 650 systems to choose from. According to a research report by BuyerZone, 91% of companies with more than 11 employees use CRM software.
Having a good CRM platform forms the backbone of so many successful RTOs, and reaps phenomenal results. Most RTOs rely on CRMs to get by efficiently with day-to-day tasks, meaning a CRM is viewed as a vital component that can add immense value.
Businesses and RTOs alike are always looking for the next best digital platform to generate enquiries, convert leads, and boost revenue. With so many CRMs to choose from, how do you know which will work best for your educational institution to convert leads?
Let's take a closer look at lead conversion and the necessary features your CRM should have to convert RTO leads.
Automate learner registration to help convert RTO leads efficiently
During the acquisition or lead conversion phase, RTOs require an enrolment portal to turn visitors and sales leads into new learners. Often students need information updated, post enrolment.
Should a student's address or telephone number change, this must be updated during the acquisition phase, which can be extremely tedious and time-consuming without the use of a student management CRM.
Opt for a student management CRM that not only gives you the chance to build forms using your RTO's unique corporate identity, but also offers flexibility to log in from the front-end, edit student profiles, and change passwords. This can make a world of a difference when it comes to converting leads.
In the digital world, we live in, we are always looking for the easiest ways and routes to take to give us the results we need. Easing up the registration process by taking admin matters into your own hands will be less aggravating and time-consuming for students and admin users alike. Less disturbance can lead to the result you're looking for, ultimately a lead in your RTOs bag!
Generating enquiries is the easiest way to boost applications for your RTO and should not be taken for granted. With the right CRM, your RTO can turn an enquiry into an application, leaving no room for the words "bounce rate".

Have a look at how easy learner registration can be.
Bring parents and students together with online payments
According to a study, online payments are the preferred way to pay, with over 89% of parents choosing to make school payments online.
Dealing with cash shouldn't sway your focus from the important things, like teaching. Traditional payment methods such as cash and physical bank transactions are a thing of the past. Modern education has evolved, adopting a variety of technologies to manage each and every aspect within the student lifecycle, including efficient and safe payment methods.
Moreover, the outcome of Covid-19 has forced businesses globally to push boundaries and make amends to the way they function, including the incorporation of new payment methods. Just as online learning grew during the pandemic, touchless payment options have rapidly become a norm and are now used more than ever before in businesses and RTOs like yours.
Students crave convenience and online payments are the epitome of this. Make sure to keep your potential students interested in your college by making use of a student management CRM that caters to this need.
According to OmniFund digital payments, technology simplifies transactions and reduces errors for students who attend school physically and online.
Create eCommerce solutions quickly with quantities and automatic totals
Prioritising students' convenience might be the best thing you can do for your educational institution. Giving your students and potential students all they could ask for at their fingertips can result in the outcome your college is looking for.
To illustrate, before online shopping existed, people would have to physically go to the mall and walk through various shops before they found exactly what they were looking for. They would then queue to pay for items and exit the mall. This activity could take hours. Luckily for us, this dynamic has evolved shortening the time it takes to shop. Online shopping has brought convenience to consumers, and fortunately for education providers, it doesn't end here.
Your student management CRMs should make provision for eCommerce pricing fields, which gives students the ability to select and pay for courses immediately simply by adding a course to their basket. They can apply at your college or begin their course without any obstacles, should there be no entry requirements. The shopping cart is an excellent way for students to purchase courses allowing them to begin their learner experience faster in a seamless fashion. Always opt for convenience by ensuring the student management CRM you choose for your college has eCommerce as a basic feature.
Build trust with email autoresponders and notifications
Automated emails get 152% higher click rates than other types of emails.
Autoresponders and notifications are scripts triggered by a student's actions in the form of email replies. The action can be from when a student sends an email or an action on your college website. An example of an autoresponder is a confirmation email once a student registers for a course on your website. Autoresponders have many uses and are key to converting leads.
Autoresponders built trust and credibility by reminding students when applying or enrolling at your college, that you are dedicated to providing them with the best student experience in the form of newsletters, blogs, customised emails, and the like. Your targeted message will make deliberate appearances in their inbox, with the intention to make an impression, address their needs, and build confidence in your college.
Finally, autoresponders are super simple to put together, cutting your email campaign time in half, all while ensuring 100% personalisation for an optimal click-through rate. Because autoresponders and notifications are triggered through actions that you can set up within your student management CRM, they will get the right message to the right student, with minimal effort from your internal team, which is important if you desire driving conversions successfully.
Choose a student management CRM with email notification options
The enrolment process at your RTO is all about maintaining a relationship and building trust with your students. Sending personalised emails that are systematic and logical as opposed to spamming students is key to keeping students interested and converting leads. Make sure your student management CRM has email logic as a feature. That way, you will be able to send automated customised emails and personalised responses, while speeding up your workflow with conditional logic based on a student's response or action on your website.
If you're looking to convert RTO leads, choosing the right student management CRM is your best step forward. Let us show you how Wisenet can meet all these needs and support your process.
Fill in your details below and we will get back to you to book a consultation.