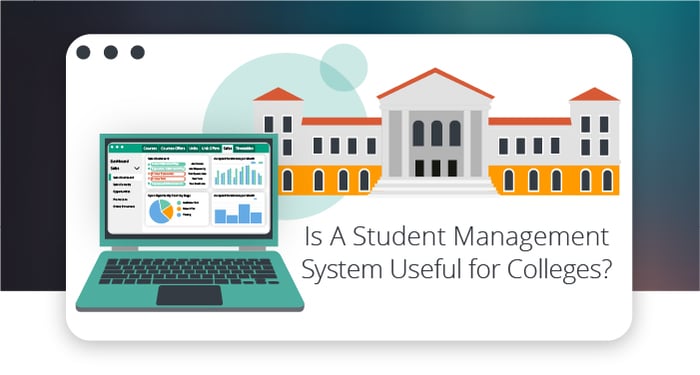 Student management systems have become increasingly popular for colleges as they streamline administrative processes and improve communication between staff and students. By providing an online platform for teachers, administrators, and parents, a student management system can make the educational experience more efficient and enjoyable for all parties involved.
If you're between systems, using legacy systems, or just need to replace your current processes with a student management system, you've come to the right place. In this blog, we will explore the various benefits of using a student management system and discuss why they are becoming such an important tool for colleges and other educational institutions.


Benefits of a Student Management System
1. Keep your college organised
A prime benefit of using a student management system is the organisation it provides. Student management systems allow educators to quickly and easily access all the information related to students in one place. This makes it easy to keep track of attendance, grades, and other vital data points through a centralised database. Here you can store and manage student information, including student records, grades, transcripts, attendance, and other data.
Administrators can quickly and easily access this information with the system, allowing for better decision-making and informed evaluations. Student management systems also provide an efficient way to keep up to date with student progress, providing teachers and administrators with the data they need to ensure student success.
See how Student Management Systems can declutter your college, ensuring your and your student's success.
2. Seamless communication between students and staff
Another great advantage of a student management system is the ability to communicate with students in real time. It provides automated notifications and reminders to help ensure that deadlines and other important dates are met for students, faculty, and staff. With these notifications and reminders, colleges can stay informed of important dates and deadlines, making sure that no critical tasks are missed.
Educators can quickly provide feedback and reminders to students as needed. This makes it much easier for teachers to stay in touch with their students, even if they are not physically in the classroom.
From custom documents to messaging, document sharing and logbooks, Wisenet's Student Management System has all the bells and whistles to enhance your internal and external communications. Take a look.
3. Keep track of student progress
Student management systems can help you track internal tasks and student progress with ease. You can quickly view data points such as emails sent, received, grades, attendance, and more to pinpoint where students are performing well, and where colleagues still have outstanding tasks to attend to. This ensures that students get the best possible education, as you can quickly identify any outstanding tasks and take immediate action, saving you time and effort.
Get things done quickly and accurately with Wisenet.
4. Paperless and reduced administration
By automating the majority of administrative tasks, student management systems can reduce the cost of resources related to labour, paper and filing. As all the information is stored within the system, it is easily accessible with the click of a button. This provides ease and convenience for both the staff and students.
From the staff's perspective, there is a significant reduction in the labour and paperwork required to manage the entire student database. This results in increased efficiency and accuracy. Aside from this, the data is always up-to-date and easily accessible. With student management systems, the administrative staff can easily retrieve any information they need in the shortest amount of time.
Are you ready to move the administration that comes with manual processes? See how Wisenet Management can set your college up for success.
5. Store your college's student data securely
Finally, student management systems provide a secure way to store student information. All data is stored in a secure, encrypted database, so educators can rest assured that their student's information is safe and secure.
Wisenet is trusted with millions of trainee and trainer records spanning 36 countries of origin and our Cloud has a 99.9% availability level. Find out why.
Overall, student management systems are becoming increasingly important tools for colleges and other educational institutions. They provide an efficient way to organise and store student information, as well as a secure way to communicate with students in real time. The ability to quickly identify areas of improvement and provide extra help ensures that educators can provide the best possible education for their students.
Are you ready to transform your college? Get in touch with us.