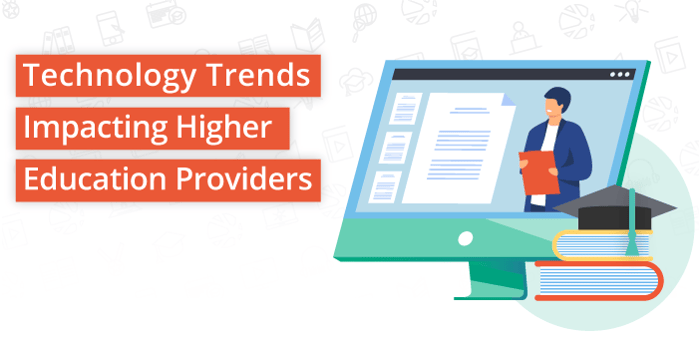 The way a student experiences learning and activities at your institution is a vital component to the success of any higher education provider. This has changed drastically due to unforeseen circumstances, including the Covid-19 pandemic. Keeping abreast of technology trends is vital for education providers to progress in an ever-changing, competitive environment.
Since education leaders are always seeking ways to optimise and modernise through technology, a study by Gartner that focused on the technology trends shaping higher education globally was conducted.
According to the study, trend profiles of the Top Higher Education Technology and Business Trends for 2021, include:
Student Experience

Virtual Experiences

Cross-Life-Cycle CRM

Sustainability

Low-Code Applications

Cyberthreats

Scaling the Change

Cloud Now

Chatbots

Hybrid Classrooms

New Normal

Covid-19 Campus

Remote Proctoring

Faculty Info. Systems
To avoid writing a novel on the subject, let's zoom in on one simple, yet significant trend highlighted by Gartner, namely the Student Experience, which encompasses Virtual Experience and Cross-Life-Cycle CRM.
---
What does the 'Student Experience' mean?



The Student Experience refers to how students perceive interactions with your education institution. These interactions extend beyond a student studying at your institution, and encompass the student's end-to-end experience, from enrolment to graduation and beyond.
The student experience is fueled and influenced by Virtual Experiences and Cross-Life-Cycle CRM. Let's take a closer look at the terminology and reasons why these two components are trending in the higher education industry.
What is a 'Virtual Experience' In Higher Education?
The education industry was forced to adopt a virtual approach following the Covid-19 pandemic.
Virtual Experiences are a means of retaining usual activities that occurred pre-covid, such as graduation, lectures, teaching, etc., without the need for in-person interaction.
Such experiences have overtaken the higher education industry, which was once mostly classroom-based.

Why is the Virtual Experience trending in the higher education industry?
According to the ESL authority, the number of students learning online has increased each year, with figures from last year indicating that 35.3% of students took at least one online education course. Figures also show that 16.6% of higher education students were exclusively taking online distance learning courses.
Virtual education experiences continue to trend due to:
Travel restrictions and school campus closures brought on by the pandemic,

Its ability to allow for campus tours gives students a 360-degree view and interactive tools for engagement,

Mobile apps and devices provide the full student experience without traditional, face-to-face interaction,

The ability for instant communication.
Virtual experiences in the higher education industry are made possible through tools such as Moodle, Canvas, Blackboard, and the like, that integrate with Student Management Systems such as Wisenet. This integration allows for complete interaction between students and staff. These tools can be used on various devices, including mobile apps, giving the student a full experience without the need for traditional, face-to-face interactions.
Take a look at how Wisenet provides this experience and more.
What is 'Cross-Life-Cycle CRM'?
A Cross-Life-Cycle CRM is an all-encompassing business-wide CRM software that provides a holistic view of students across all stages of the life cycle. This is very different from a traditional departmental CRM as it is not focused on one single function or process.
Most higher education providers have a school CRM that focuses on the functional needs of individual departments. This however does not provide them with a single view of a student. Previously designed CRM's were focused only on the student. Today's CRM's however include staff, faculty, students, and parents which is much more beneficial to higher education providers.
Why is Cross-Life-Cycle trending in the higher education industry?
Cross-Life-Cycle CRM streamlines communications and tracks and reports on an individual's journey within the educational institution.

It makes way for better engagement across teams which leads to enhanced Return on Investment (ROI).

This can lead to increased enrolment and retention.
Since the Student Life Cycle consists of the stages a student takes from pre-enrollment, student engagement, graduation, and post-baccalaureate achievement, having a holistic understanding of the Student Life Cycle will enable you to create an optimum learning environment at your institution. This gives you an understanding of the intricate CRM details required. Having a school CRM in place that covers all spectrums of the Student Life Cycle will not only result in great learning outcomes but will aid in retention and increased enrolments, all while effectively managing your students efficiently and effectively.
A Cross-Life-Cycle-CRM will manage entire interactions within this process, automatically and efficiently, leaving no tasks undone.
Since the Student Life Cycle is complex and changes as the industry evolves, CRM's must also evolve and upgrade. Let's unpack the stages of the Student Life Cycle for a deeper understanding of what a Cross-Life-Cycle-CRM can cover.
---
The Student Life Cycle



The Student Life Cycle consists of three stages and eight substages.
The three stages of the Student Life Cycle are as follows:
Attract: This involves attracting potential students to your education institution. It can also be referred to as the 'Discovery' stage.

Transform and Empower: This stage covers a student's time at your institution; and

Advance: Involves launching a students' career and engagement as alumni or as an Advocate.
Within the three stages are eight steps of the Student Life Cycle:
1. Engagement
Occurs throughout the student experience and includes activities with potential, current, and past students.
It is essential to have a Cross-Life-Cycle-CRM that gives your institution the ability to keep potential, current, and past students engaged through automated communication so that you will never miss a beat or see a potential student fall between the cracks.
See how Wisenet's Learn Cycle Workflows automates processes based on real-time student lifecycle events.
2. Recruitment
Active recruitment of students to your institution.
In today's ultra-competitive world, the way institutions manage their sales and marketing activity is critical to their success. Making the lead nurturing process at your institution must be as straightforward as possible. Publish courses online, take enrolment inquiries and make managing the sales process easy, accurate and timely.
See how Wisenet can turn your website visitors and sales leads into new learners within one convenient student management system.
3. Application/Admission
The time when a student has decided to apply to your education institution. During this step, a student is also notified of the outcome of their application.
Learn how you can gain flexible control over admissions, progress and results, and certification with Wisenet.
4. Orientation/Enrollment
This step includes the administrative, academic, and extra-curricular activities in which a student is involved during their first year of college.
5. Studentship
Student engagement activities that 'transform' the student intellectually and personally and allow them to emerge as engaged 'citizen scholars.
Academic: Academic programming in and outside the classroom, such as lectures, tutorials, study, and other elements to enhance the intellectual experience of the students.
Student Life: Includes co-curricular activities and on-campus student life, as well as activities and experiences involved in social and logistical aspects of being a student.
See how Wisenet's Learner App allows your learners to access a multitude of documents and update personal details - all essentials for compliance reporting and seamless integration.
6. Graduation
The ceremonial highpoint at your institution.
See how Wisenet aids in completion rate improvement and keeps your learners motivated, empowered and connected.
7. Career Preparation
This takes place throughout the three stages of the life cycle and includes the activities that engage students in thinking about, gaining experience in, and preparing for their post-study careers.
8. Alumni
Involvement in activities that build loyalty to your education institution while in college and post-study activities as alumni.
Wisenet can enable your institution to create brand advocates through your graduate network, letting their experience do the talking. This is achieved through:
Testimonials to entice your prospective learners

Learner's education journey

Referral and network development
We make this possible through:
Aggregated survey results

Events with scheduling management

Social media management
A Cross-Life-Cycle-CRM will allow you, as a higher education provider to connect to your students in a way that traditional information management alone does not allow. It is imperative to embrace the complexities of the ever-evolving student journey, as a strategy to future proof your education institution. Keeping abreast of these changes and adapting by implementing a school CRM that covers all aspects of your student lifecycle will ensure you are one step ahead of those who do not.
Explore Wisenet and let us take your software experience to the next level today!