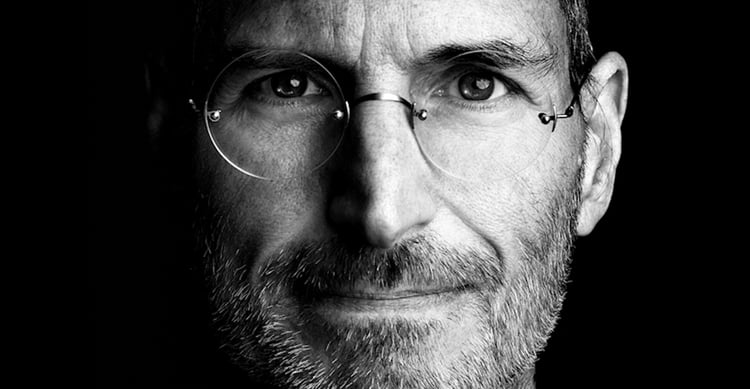 It's faster in every case to talk to the server than it is my local hard disk... Carrying around these non-connected computers -- with tons of data and state in them -- is byzantine by comparison.

- Steve Jobs, late Co-founder and Chairman of Apple
(Click to tweet!)
Steve Jobs spoke about this in 1997 at the Worldwide Developer Conference. His speech also included a vision for bringing the cloud to everyone's personal computer. Sure enough, 19 years later today, all of us probably have adopted cloud computing for both personal and business use.
Or, have we?
1) Customer Experience Matters
You've got to start with the customer experience and work backwards to the technology.

- Steve Jobs at the Worldwide Developer Conference, May 1997
(Click to tweet!)
Steve Jobs will always be remembered for his best quotes on technology, but he has also taught the world a lot about customer experience and satisfaction.
Jobs had a clear vision for the online and offline experience he offered to his customers. Walk into any Apple store and you'll notice the patterns: white walls, brown furniture, bright and white lights. You'll find this is the case for Apple stores across the world.
Online you'll get live support, phone calls, help guides, and even repair centres that can honour warranties and services.
Many successful companies today have taken on the same, consistent approach to customer satisfaction, and the limits of the cloud are also constantly pushed for nearly everything from retail to F&B and education.
Users today have nearly everything from transport to travel tickets securely accessible from their phones (and laptops or tablets), all thanks to the cloud which connects everyone to everything.
Worse still, we get mad when our favourite apps go down (think: Facebook or Twitter outages). We get upset when our smart phones go bust, or when our internet connectivity causes delays in our Spotify sessions.
Clearly we have invested trust and time in our daily lifestyle applications.
If you expect so much out of your apps for leisure and conversation, why not expect the same from your business application providers? Don't we use these apps just as much, if not more?
2) The Cloud is Simply Better for Business
digital hub (center of our universe) is moving from PC to cloud...

- Steve Jobs, 2010, in an email addressed to his Executive Team
(Click to tweet!)
In another interview with WIRED magazine (1996), Jobs also said, "The desktop computer industry is dead."
Old technology and techniques have been making way for new, cloud-first approaches in businesses, and those who fail to ride this wave will eventually sink.
It's obvious: locally-installed apps are well past their use-by dates because they were developed for the last century and do not play well in the hyper-connected internet world of today.
Need more than a famous man's quotes and history? Then take several governments' words for it: New Zealand's Ministry of Education has began implementing cloud-first strategies for official audit services, Australia recently began an online tax return lodging service, and in 2016 Singapore started two-factor authentication for access to all online government services.
There are many benefits of cloud computing for business -- including registered training organisations -- and everyone should have started on it at least 6 years ago.
3) Plan, Plan, Plan
You know, I've got a plan that could rescue Apple.

- Steve Jobs in an interview with Fortune, 1995
(Click to tweet!)
We all know what happened - Jobs did rescue the company with great success. He has gone beyond making "buttons on the screen look so good, you'll want to lick them" (Jobs, in an interview with Fortune magazine, 2000).
Planning could be something we take for granted today. The internet is filled with articles and apps for productivity, even if it's just for planning our work days or holidays.
If we're taking the time to just plan our time elsewhere, we should be investing the same efforts in planning our cloud strategies for business. That's because your plan will be your lifebuoy, an ongoing effort against the biting cold waters of high costs, over-complicated processes, data breaches, and loss of client confidence.
Your plan will keep your business in sync with beneficial, business-compatible cloud strategies. And such strategies usually require multiple connected business applications working together in sync for your business.
Updating one app should work seamlessly with others, too.
This raises the question: what should be in the plan? What could bring together your applications, reduce your risks of investments, and increase your returns?
For starters, try the TRIPS strategy for a more active approach:
T (training)
R (research)
I (implementation)
P (planning)
S (scalability)
Alternatively, taking a more passive strategy of adopting single-cloud applications each time might work, but the long-term risk here is the lack of integration and manual replication of data. This way you might not be able to enjoy the full benefits and potential of your business with a cloud-first strategy.
The most progressive and successful companies have learnt that having a solid cloud strategy for your business can only take you so far. Even if you've invested in one or two good products, you can still sink in deep, cold waters if your team doesn't understand it, cannot use it, or if there is an overload on your internal IT team.
That's why you should always start with a plan.
4) It's Okay To Make Mistakes
Sometimes when you innovate, you make mistakes. It's best to admit them quickly, and get on with improving your other innovations.

- Steve Jobs, The Journey Is The Best Reward (1988), by Jeffrey S. Young.
(Click to tweet!)


Don't believe it? It does seem promising at first - Oracle has reported that 81% of C-Level Executives in North America agree that cloud services share a direct relationship with employee and customer experience.
But look closer: the same report mentions that there is only an adoption rate of 28%.This means that 72% are either sinking or worse, drowning, and they probably haven't even realised it yet! And some of the best-known cloud companies today have ended in critical failure (just search for "cloud computing failures").
Thankfully, with major lessons learnt, plus broad network access, flexible deployment methods, and other characteristics of cloud computing, most of them have managed to recover.
So it's okay to make mistakes; you just have to be ready to diagnose cloud application needs and bounce back if failure is imminent.
It's cliched, but it's true - even the best fall down, sometimes. You just have to get up and keep going.
What was your company's experience with cloud computing? What are some of your favourite Steve Jobs quotes on technology? Tell us more in the comments below!
---
Image Credit: Now You Know Facts