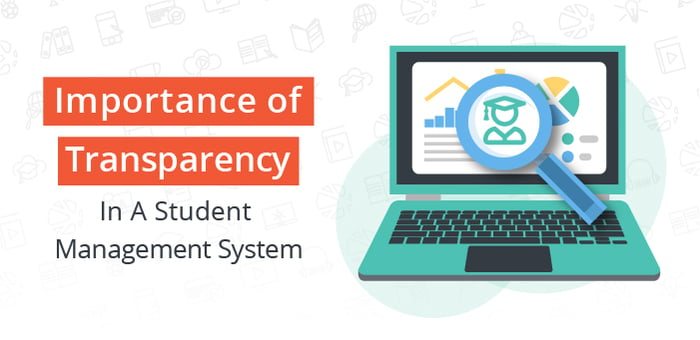 Purchasing student management system software may seem like a simple task, given the many options available at our fingertips, but this decision shouldn't be taken lightly and could make or break your business. Whether you are looking to upgrade, or your organisation is just starting out, it's important to take intelligent steps to ensure a successful long term purchase. The foremost attribute to look for, alongside required functionality and features, is transparency.
The Dalai Lama once said that "A lack of transparency results in distrust and a deep sense of insecurity." – and he couldn't have been more accurate. These words apply to every aspect of our existence, from striking up friendships to setting up fruitful, long term business partnerships. So if you're in the process of shopping for new software, remember one important thing: transparency should be high on your list of concerns.
With so many student management system service providers, how will you know that your prospective software partner is truly candid? You can never know for sure but if you follow the checklist we've prepared for you, there's a high chance your collaboration will bring success and value sooner than you think.
Take a look at the various features of learner management that must not be negotiated when choosing a student management system, namely transparency.
1. Service Health Transparency




Opt for a reliable student management system



Software usually comes with tons of fancy features, but there's really no use in purchasing feature-filled software if you can't make full use of it due to downtime.
Before signing up for a student management system, enquire about service health. Better yet, request service health information dating back a few months. This will give you an overview of the software's uptime vs downtime. If an education software service provider is transparent, they will provide reasons for downtime and publicly publish this information in real-time so you have a view of how reliable they are.
Wisenet provides complete transparency on service health, giving customers a full-view of the operational efficiency of their student management system. When our customers were asked to describe Wisenet, the adjective that came up the most often was "reliable."
With 99.9% uptime and an 89% customer support satisfaction score on G2, our numbers and adjectives look good on paper, but even better on screen.
Take a look at our Service Health Dashboard.
2. Self-Help Transparency


Ease up business processes without the wait

As you know, time is the most precious resource for any business. Of all the things that can hinder productivity and result in poor time management, getting stuck and requesting support is the most common.
Struggling to add a new user to the system or being uncertain on how to generate a customised report may result in work coming to a momentary halt. But it doesn't have to be this way. Users don't always want to jump onto a call to request assistance, or sometimes cannot wait for a support ticket to be resolved. For this reason, having a transparent self-help platform that is readily available and easy-to-use will combat all these unnecessary issues.
When shopping for a student management system, make sure to have a look at the support section of the website in detail. If you cannot locate self-help options, it's probably best to ask about this feature. After all, "A lack of transparency results in distrust and a deep sense of insecurity", which can be avoided if you opt for a trustworthy education software service provider.
Wisenet's intuitive student management system minimises the learning curve and knowledge gap. It was developed with a particular focus on preventing users from getting stuck, giving users a super easy and seamless navigation experience.
Wisenet boasts a library full of self-help resources, meaning you can enjoy the option of resolving issues without the wait, making it easy to continue working without disruption. Furthermore, we believe in complete transparency, and continuously update our resources in real-time keeping you up-to-date with new features.

Self-help platforms offers tons of benefits, including but not limited to:
They shorten the time taken to resolve tickets

They offer 24/7 availability

They improve user productivity

They empower users to be self-reliant

They leverage digital transformation in your business
Finally, because we understand the importance and urgency of your work, we've developed metrics used to monitor the time we take to resolve issues, how many support tickets are logged, and the like. We successfully keep these statistics as low as possible, giving us peace of mind that we are on the right track with assisting you to achieve more.
3. Try Before You Buy


Make the most informed decision possible

You've done your homework, narrowed down three potential student management systems that appear to have the functionality you're looking for. After this, you request demos from your list of top systems, and finally decide on one. This is the route many companies take, however, one game changing step that is often overlooked is putting in a request for a free trial.
Student management systems often look impressive on paper and pre-recorded demos are naturally rehearsed to "wow" customers. In essence, these two factors shouldn't be the only criteria used when shopping for your ideal system. Trialling before buying will allow you to see exactly what you're getting into before officially committing to a purchase. It will also enable you to personally experience the software, giving you the chance to make a more informed decision.
If a free trial is denied or not provided by your potential education software service provider, how will you know what you are getting yourself into or if your vendor of choice is simply over-promising? Not only will you feel confident trialling the software but you will also have more peace of mind knowing that your vendor of choice is so confident in its service offering that they're willing to let you play with it for free.
Don't fall into the trap of purchasing something based on a perception of its value. Make sure your vendor of choice is transparent and confident enough to satisfy your curiosity and required functionality through a trial before making the big purchase.
Let's go through some of the benefits of a free software trial:
You will have an in-depth understanding of the software and will be able to experience its features, user interface, and functionality, in real-time, understanding how it all works and if it meets your business needs.

Your confidence in purchasing the software will be accelerated.

You will have the ability to go through the software and ask questions during your trial period to make sure the software is compatible with what your requirements.

You can take your time to get to know the software by requesting a trial period that is convenient for you.
4. Seek Pricing Transparency and Avoid Hidden Costs


Take control of your finances

After weeks of shopping for a fitting student management system, getting a demo and trialling it out, your software is finally up and running. But as you go through the finances, you realise that your monthly expenses for the software aren't consistent - if anything, they've increased. What's going on?
Many student management system providers display their pricing on their websites. So, while you may think you're getting a great deal and the company is completely transparent, this is not always the case. Unfortunately, we live in a competitive world. Software providers want your business, but in order to make their offer more delightful, they need to make sure costing is competitive at first glance.
Be vigilant and take more than a glance and choose software that is transparent and truthful.
A few things to look out for when scrutinising a costing model's fine print:
If you see a disclaimer that refers to 'pay for additional support', make sure you enquire about this.

Always request the cost for additional users or learners.

Ask about add-ons and if there is an extra cost for the required add-ons.

Make sure you understand how per user and per learner costing is calculated. Dive into questions around how costs will change if your learners increase, whether you are able to exclude learners and if learners are billed per month, year, or other.
All of these items can greatly impact the final price you pay and will give you a much clearer, holistic view of your costing.
At Wisenet, we work with your business cycle. Our "Per Learner" subscription model, allows you to only pay for the learners you're working with, meaning your costs are controlled by you. Our pricing model ranges from starter, to standard and premium, giving you the option to choose the features your training organisation requires. Take a closer look at our 100% transparent costing model.
We see transparency and clear communication with customers as a part of our commitment to be helpful, open, and professional with our customers.
In the spirit of transparency, head over to our home page, and let us know what else you'd like to see to make your experience with us extra glassy. Drop a comment below.