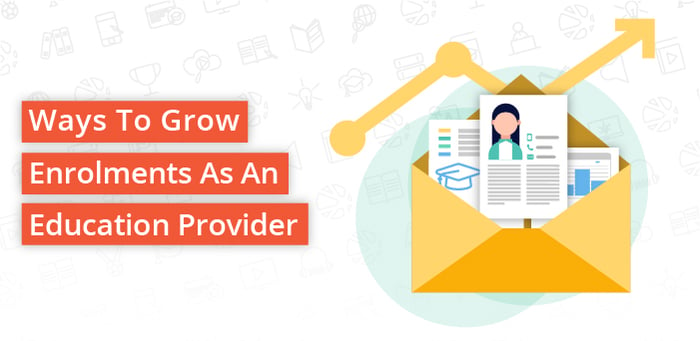 We have put together some inventive ways to grow student enrolments as an education provider.
The vast majority of the world has been in lockdown for over 18 months since combating Covid-19, and Education Providers globally continue to be impacted. Many have been left with no alternative but to close their campuses, and move classes online to protect students through preventative measures such as quarantining. Furthermore, the level of unemployment and underemployment forced many to leave the college pipeline. Due to unprecedented times, the world of education has had to quickly adapt, and while most have successfully adjusted, one very important component remains affected - enrolments.
Education Providers across the globe have experienced a decrease in college applications and school enrolments, particularly in the past 18 months. Parallel to this decrease, Education Providers are faced with growing competition, and must swiftly adapt to utilising futuristic tools and features to increase enrolments in an increasingly competitive environment and in the midst of a global pandemic.
Find out how you can increase enrolments at your Education Provider, using the simple methods listed below.
1. The Best Step Is No Step




Reduce Steps In Your College Enrolment Process



Students begin the learning application process at various stages. While students coming fresh out of high school start applying for learning weeks into their final year, working students alike take the time to conduct research on suitable institutions in advance.
Before applying to your institution, students generally follow processes, which can include, but are not limited to:
Conducting research on institutions suitable to them

Narrowing down the various institutions they'd like to apply to

Taking the leap and applying on the various institution enrolment websites.
Essentially this translates to your institution being one of many options.
Since the institution enrolment rates have decreased across the globe, make sure that your institution's enrolment process is seamless and is tied to an aesthetically pleasing website.
Institutions have varying enrollment criteria. While some require only a few fields of mandatory information during the enrollment phase, others require compulsory fields to be completed and attachments to be uploaded by the student. Attachments can vary, but may include documentation such as identification documents, final year certificates, signatures from the student and/or parent and the like.
Whatever your institution requirements, remember, website registration is no fun. Avoid rubbing your visitors the wrong way when they're trying to register by ensuring your enrolment site is built and laid out as simply as possible to remove a difficult or lengthy process.
Create a seamless enrolment process by:
Including only necessary fields - Decide on what fields are absolutely necessary. This way students are less likely to get frustrated and abandon your page mid-enrollment.

Group fields in a logical order - We live in a society that is constantly signing up on websites for various things. Since students are accustomed to this, group fields in a certain order based on a logical flow starting at name, telephone number, email address, address, and other mandatory fields.

Shorten the process by including steps - Breaking up the process into steps, will give students clear guidance on what is required, but will also make the process seem organised and more seamless, resulting in minimal frustration.

Include social sign-on - This allows students to complete a single sign on using existing information from a social networking service like Google, Facebook or Twitter to sign into your enrolment webpage, instead of creating a brand new login account specifically for them to enrol. This saves the student ample time while reducing frustration.
Wisenet provides website development services for you as a training provider, created by the education industry, for the education industry.
2. Mobile Is The Future


Ensure A Mobile Friendly Application Process

In 2020, 68.1% of all website visits globally came from mobile devices. Since mobile device usage is on the rise, it is within your institution's best interest to have a mobile friendly website.
The below tips will avoid your potential students from getting frustrated and abandoning the application process when doing so on a mobile device:
Your mobile application resolution and size will be different to your desktop screen resolution and size. Ensure that the size and resolution of your mobile site so students don't have to zoom in and out when on your page.

According to the Worldwide Screen Resolution Stats (Jan 2020 – Jan 2021), the most commonly used resolutions across mobile, desktop, and tablet are: 1920×1080 (8.89%) 1366×768 (8.44%) 360×640 (7.28%)

Avoid eye-squinching text. Make sure all text is easily visible and buttons are easily accessible on a mobile device and your call to action stands out amongst the text.

Ensure seamless user experience - You've nailed your desktop websites page user experience. Take the time to mirror this experience on your mobile application.
Here are a few other tips on how to modernise your student recruitment process.
3. Keep Your Students Intrigued


Reduce Response Time Through Automation

To keep students engaged, reduce response times through the use of automated messages. Oftentimes, students can get side-tracked or complete half an online enrolment application only to return to it at a later time. Don't lose out on a potential student simply because of forgetfulness to complete the process. Utilise automated messages to close this gap. This consists of personalised pre-written messages that are automatically scheduled and sent to a student at a specific date and time within the enrolment process, resulting in a more timely personalised connection with your students while simultaneously keeping them engaged throughout the enrolment process. Being proactive with potential students will keep them interested and aid in growing your institution's enrolments.
Today's generation wants instant answers to queries. Once you have successfully automated your reminder notifications to keep students engaged, don't lose this engagement during the next stage. Should a student successfully enrol on your website, keep the communication going through automated responses. Students expect to be kept informed of their application at every point in the process. Ensure that your institution sets up automated messages, not only during the student enrolment process, but also at various intervals throughout, like immediately after enrolment, a week post enrolment and finally, once a student's enrolment application has been reviewed.
Finally, enhance your engagement through the use of Social Media platforms. Today's generation as well as previous generations rely on social media channels to get their news. Take advantage of this fun fact by maximising your communication on social media. Extending the deadline for enrolments by a week? Post this on Social Media. Or, use Social Media channels as a benefit for students to engage with your institution. As we mentioned, students rely on Social Media quite a bit. Extending these channels for engagement will make your institution seem advanced but also will be pleasing to your students, who will be up-to-date at all times with your institution happenings.
Find out how to automate your end-to-end processes based on your real-time student lifecycle events using Learncycle Workflows.
4. Students Can't Apply To Your Institution If They Can't Find It Online


Drive Students To Your Website Using Marketing Strategies

The heading says it all. Many institutions have wonderful websites, but what's the use in this if students cannot find it? Now that you've got your enrolment process down to the 'T' on your website, the next step is to solidify your website's search engine optimisation (SEO).
What is SEO?
SEO is the process of increasing your website's visibility in a search engine's organic results through optimising your pages with the keyword phrases people are likely to search for. Once you have mastered this process, your website is most likely to sit at the top of the first page in Google results when a student searches the relevant keywords. SEO is a process and can take several months to start yielding results. Start now to put your institution at the top of your potential student searches. Remember, most people don't move on to the second Google search results page, therefore it is so important to be SEO savvy and stand out amongst the crowd.
There are tons of other marketing strategies you can use to drive students to your website. Get guidance from your Institution's marketing manager or use an experienced vendor to see what will work best for you.
Read more about how to convert RTO leads in this blog post.
5. Consumers Trust and Rely on Testimonials and Reviews


Give your students reason to choose your institution

So you've included clear steps outlining your enrolment process on your website, students can easily find it. Now, to solidify your enrollment success, show your potential students exactly what you're about by giving them the trust they seek through reviews about your institution. Reviews will solidify what your institution has to offer and serve as proof that you're the real deal. After all, 78% of people trust online reviews as much as a recommendation from a friend or a family member.
Start by gathering reviews from current students and adding these to your website. Include them across all website tabs. So, when a student visits your course description page, a review about how the course has benefited the student pops up, or, if a student visits your course pricing page, a pop-up review from a student who found your pricing process seamless is displayed.
Take it one step further and utilise third-party review sites such as Education Rating and the like. Not only will this give you a platform to save all your reviews in one spot and increase your SEO but it will simultaneously be used as a tool to market your institution.
6. Don't Delay, Respond Today


Provide proactive support to keep students engaged

While automated communication can go a long way in keeping your potential student interested, being proactive through support channels can take interest to the next level. Automated communication can do wonders to remind students of incomplete applications, but physically calling a student to follow up with them will make your institution appear to be driven... as you are. If a student already finds your pre-course enrollment support supreme, imagine the provoked thoughts about actually studying at your institution?
Avoid leaving your students hanging by ensuring a 24-hour support turn-around call to keep your potential student captivated.
7. Transparency Is Key


Be upfront about costing to avoid questions and deflections

Being transparent and upfront about enrollment and course costs on your website has so much power in retaining student's interests, and ultimately reaching your goal of having them enrol to your institution. Many students take on studying at their own cost, which is seen as an additional expense to their budget. Therefore, including fees on your website will give students a clear idea of what they can expect all while giving them the peace of mind needed when applying to your institution.
Everyone loves a good discount. Surpass expectations and opt to include discounted costing on your website. For example; give students the option to get a 5-10% discount should they pay their fees upfront. This will create excitement and may be a reason for multiple students to apply for their course of choice at your institution.
Finally, as with the enrolment process, make the payment process as seamless as possible. Do this by providing your potential students with various methods of payments to make the payment process easier, all while removing the frustration that comes with payment, which could possibly lose the student in the process.
As Orange International says, "Your student's experience is more important than ever before and from enrolment to completion, you can streamline their journey in Wisenet." Find out how we can assist with your student's end-to-end experience.